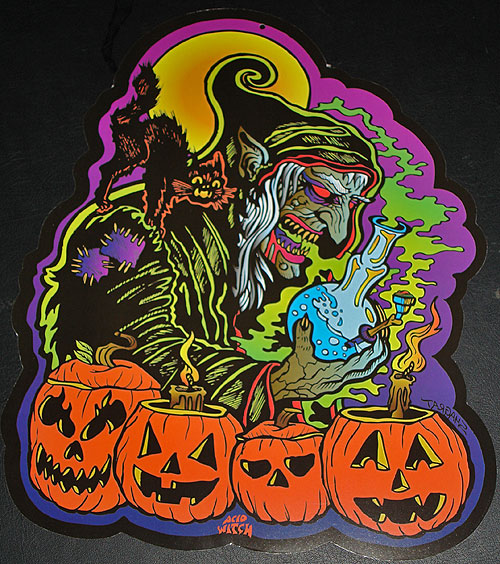 BLOODY ROOTS CELEBRATES HALLOWEEN 2016 on SIRIUS XM
Week of October 29, 2016
Sat 10/29, 6PM ET
Sun 10/30, 4PM ET
Mon 10/31, 9AM ET
Tues 11/1, 4PM ET
Thurs 11/3, 9PM ET
Light the candle, pile high the sweet stuff, this week's metal journey follows the parade of songs celebrating the most metal of all holidays, Halloween. Honor the night when all become metal fiends with seasonal incantations by King Diamond, Blind Guardian, Cradle of Filth, the Misfits, Type O Negative, Necrophagia, the Black Dahlia Murder, Acid Witch, Halloween, and others. Trick or treat and know your Roots!
Indulge in Halloween horror for years to come by plunging into the pages of HEAVY METAL MOVIES: Guitar Barbarians, Mutant Bimbos & Cult Zombies Amok in the 666 Most Ear- and Eye-Ripping Big-Scream Films Ever!, by Mike "McBeardo" McPadden
PLAYLIST:
BLIND GUARDIAN – "Halloween" from MEMORIES OF A TIME TO COME
KING DIAMOND – "Halloween" from FATAL PORTRAIT
HALLOWS EVE – "Hallows Eve (Including Routine)" from TALES OF TERROR
HALLOWEEN – "Trick Or Treat" from DON'T METAL WITH EVIL
THE MISFITS – "Halloween" from HALLOWEEN 7″
CRADLE OF FILTH – "Halloween II" from THORNOGRAPHY
MASTODON – Halloween" from ONCE MORE ROUND THE SUN
TYPE O NEGATIVE – "Halloween In Heaven" from DEAD AGAIN
NECROPHAGIA – "Trick R' Treat (The Last Halloween)" from DEATHTRIP 69
ACID WITCH – "October 31st" from WITCHTANIC HELLUCINATIONS
THE BLACK DAHLIA MURDER – "A Shrine to Madness" from RITUAL
BOVEE – "Halloween" from DEMO
HELLOWEEN – "Halloween (full version)" from KEEPER OF THE SEVEN KEYS
Bloody Roots is Sound of the Beast author (and Bazillion Points publisher) Ian Christe's heavy metal history show on Sirius XM Liquid Metal channel 40. Since June 2004, each weekly show has examined another subgenre, band, movement, country, or theme in metal, punk, and heavy rock. The show is available on-demand online from SiriusXM.com.