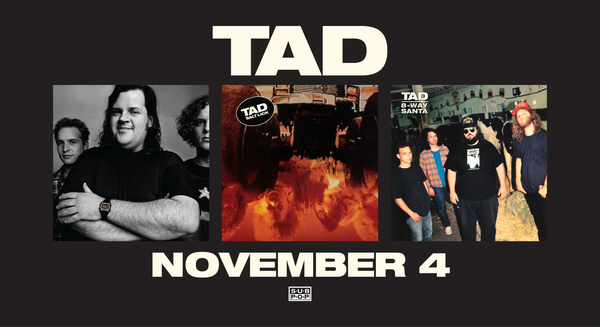 While EXPERIENCING NIRVANA: Grunge in Europe, 1989 costar Tad Doyle has been busy laying waste with Brothers of the Sonic Cloth, Sub Pop Records has been flexing some serious muscle by readying three essential albums for re-release by Doyle's history-hammering outfit TAD.
On November 4, Sub Pop unleashed remastered, deluxe editions of God's Balls (1989), Salt Lick (1990), and the notorious 8-Way Santa (1991), along with assorted singles from Tad's initial triumphant 1988-1992 campaign to grungeify the planet with thunder riffs, muddy rhythms, tire-fire vocals, and Pacific Northwest rock-and-roll fury.
Studio wizard and longtime friend-of-Sub Pop Jack Endino remastered each TAD album from the original tapes to create the bones for fresh line of vinyl LPs, CDs, and digital downloads. Each release also features: "new images from celebrated photographer Charles Peterson, bonus tracks, and expansive liner notes from the band and Jack Endino."
Experiencing Nirvana: Grunge in Europe 1989 by Sub Pop Records cofounder Bruce Pavitt documents the times and the musicians behind, among other milestones, those TAD albums; unwashed, flannel-wrapped visionaries who revolutionized mainstream rock from the underground up. TAD, Nirvana, Mudhoney, and others are captured during their first adventure abroad, via journal entries and personal photographs from Pavitt—who also created the Sub Pop zine and collected in our essential release Sub Pop U.S.A: The Subterranean Pop Music Anthology, 1980-1988.
Oh, and yes—Pavitt appears in his hunting jacket "uniform"—bringing beer!—in TAD's immortal video for "Wood Goblins."
TAD - Wood Goblins [OFFICIAL VIDEO]