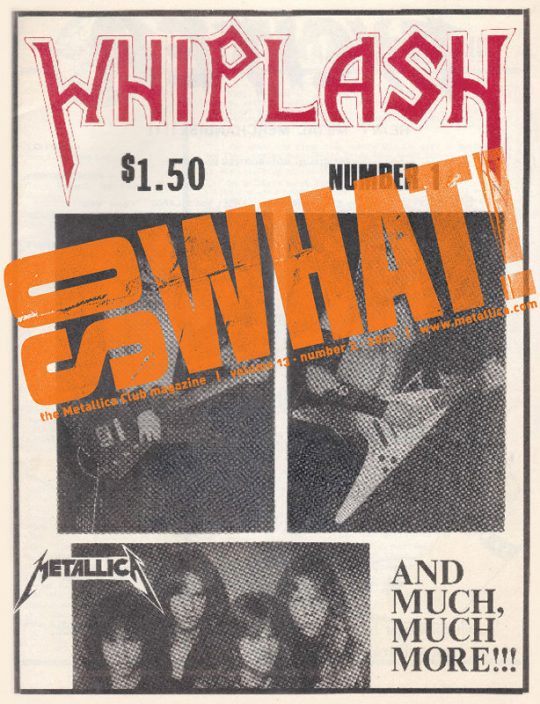 MURDER IN THE FRONT ROW coauthor Brian Lew has a place in Metallica history as one of the band's very first boosters and chroniclers, dating back even prior to their move to his hometown Bay Area. In ye olde metal days, his main outlet for documenting the heavy musical revolution was his carefully constructed, painstakingly "curated," and relentlessly honest mag Whiplash.
In 2006, Lew wrote a cover story for Metallica's fan club mag So What! about how those self-published periodicals connected metalheads and tape traders all over the planet in the days—a kind of long-haired, paper and glue version of the Internet. The band has just opened its archives, and is offering the back issue (featuring a full-scale reproduction of the cover of Whiplash number one), for a measly four bucks AT THIS LOCATION. The issue also includes a 20-year retrospective on Master of Puppets, plus a talk with fill-in guitarist John Marshall and Kirk Hammett.
For a much longer immersion in the days of denim and leather, featuring over 400 color and black-and-white photos of Metallica, Slayer, Megadeth, Exodous, Testament, Death Angel, Vio-Lence, read Murder in the Front Row: Shots From the Bay Area Thrash Metal Epicenter, our definitive, elaborate history of thrash from Year Zero onward.