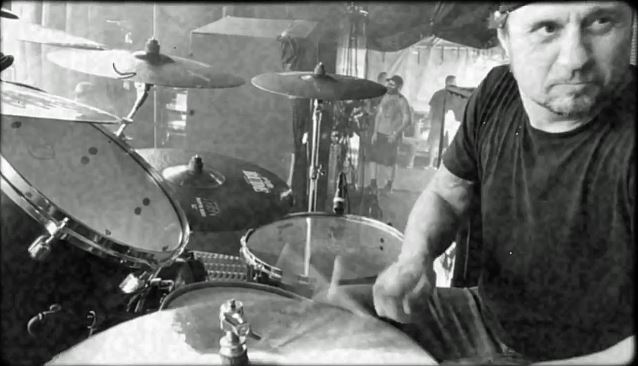 Punk, metal, horror, and all other worthwhile aspects of life continue to flow from the Misfits reunion shows back in September. Pioneering ghouls Glenn Danzig, Jerry Only, and Doyle stormed Riot Fest stages in Denver and Chicago, backed on drums by ex-Slayer legend Dave Lombardo.
Since all closeup footage of Lombardo playing his drums is precious, and doubly since all Misfits songs are so catchy they can be recognized solely by the drum parts, we're posting the above. We want to be able to look at it whenever we want. Shot from an iPhone on Dave's drum kit, the clip depicts him thundering through "Green Hell" during a pre-concert sound check in Chicago.
Since no new Misfits material is be forthcoming (as per Glenn Danzig's declaration), be sure to absorb the band's classic gore and glory directly through our newly reanimated MISERY OBSCURA: The Photography of Eerie Von (1981-2009), by former Samhain/Danzig bassist Eerie Von.
And of course you'll find dozens of great Dave Lombardo live and candid shots from Slayer's Show No Mercy through Reign in Blood eras in MURDER IN THE FRONT ROW: Shots From the Bay Area Thrash Metal Epicenter.