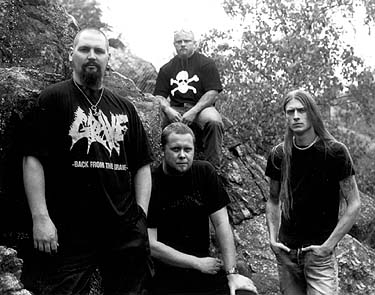 "Brilliant, original death metal from the island of Gotland," writes Daniel Ekeroth about extreme pioneers Grave in his genre opus, Swedish Death Metal. "Their debut album, Into the Grave, remains one of the best Swedish death metal albums of all."
That's high praise, but is heavily earned by the still forward-charging metal force initially formed in 1988 by guitarist and vocalist Ola Lindstrom. As far back as 1984, according to multi-instrumentalist and sometimes singer Jörgen Sandström, early variations of Grave existed under the names Anguish, Destroyer, and Rising Power. Those bands worked through increasingly intense takes on metal until becoming Corpse in 1986.
Corpse (Pre-Grave) - Black Dawn RARE! Full Demo('86)
Finally, in 1988, the group deemed itself Grave, and struck out for death metal glory. When Corpse broke up, they didn't mention to the bassist that they were forming a new band. He saw a flyer for Grave's first show, showed up, and figured out pretty quickly his band had moved on without him. It's hard to hide on a small medieval island like Gotland!
Into the Grave erupted in 1991, making an indelible mark on extreme music, followed by a tour of Europe and North America. You'll Never See followed in '92, after which bassist Jonas Torndal departed, prompting the foursome to carry on as a power trio, with Sandström switching from guitar to bass.
Soulless (1994) incorporated industrial elements into the death storm, with Hating Life (1996) pushing boundaries even further, especially after Sandström split and Lindal took over vocals. An ensuing tour generated the concert album Extremely Rotten Live (1997).
Grave - Extremely Rotten Flesh ( Holland 2009 )
At the end of the '90s, Grave disbanded before reuniting in 2002 for Back From the Grave. Since then, the group has continually put out new albums every two years or so, and they regularly tour the planet. Grave's most recent release, Out of Respect for the Dead, hit in 2015 and they triumphantly stormed the Baltic Sea in October 2016 as part of the Close-Up Båten alongside fellow Swedish death metal legends on the order of Entombed, Unleashed, Necrophobic, God Macabre, and Merciless. That's life in a Grave!
Read SWEDISH DEATH METAL