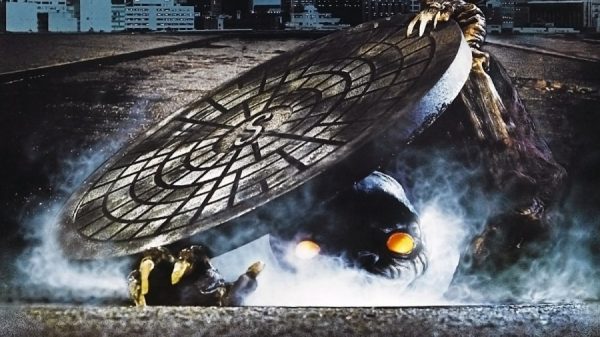 This month, as Krampus lurks and the Grinch practices stealing gifts, filmdom's finest and most ferocious purveyors of Blu-ray brutality are busting out their hardest and heaviest releases. The Heavy Metal Movies quotient is high his year, especially in the quintessentially metal realm of the extreme horror cinema. Get ready to return—or experience for the first time—the glory of grindhouse gore and bong-passing VHS parties with this blood-soaked bounty of exquisitely remastered vintage splatter classics, all loaded with brilliant new bonus materials. Plus there's a smoking soundtrack in the form of a new Rush concert documentary.
Gratuitously guiding you into the vicious video vortex is Mike "McBeardo" McPadden, author of HEAVY METAL MOVIES: Guitar Barbarians, Mutant Bimbos, and Cult Zombies Amok in the 666 Most Ear- and Eye-Ripping Big Scream Films Ever! Let his twisted spirit be your guide…both through this blog post and the never-ending stream of his mighty book. Let us begin with:
---
BURIAL GROUND (1980)
Burial Ground Trailer (Peter Bark Version)
Even if Burial Ground didn't heavy-breathing man-boy Peter Bart as incestuous dwarf-perv Michael, director Andrea Bianchi's undead fest would stand as an exceptionally outrageous entry in the early-'80s Italian zombie onslaught. Of course, Burial Ground  does contain Peter Bart clamoring for inappropriate maternal bosom cuddling, and then chomping on those suckers, leading to one of the most brain-boiling freak-shows in horror film history.
As Burial Ground's cult has expanded through the ages, Bart's bug-eyed visage has attained icon status in the realms of both horror fandom and heavy metal. You see him on stickers, T-shirts, and flyers everywhere. Severin Films has now upped Peter Bart-mania to almost inconceivable levels of awesome with their new Burial Ground Blu-ray. The movie, as usual, gets Severin's A-plus technical overhaul and abundant bonus features—and if you order it from their website, it comes with an array of heavily Peter Bart-centric collectibles. Wield them weirdly.
SPECIAL FEATURES:
New restored 2k scan with full shot-by-shot color correction
English and Italian audio tracks
Villa Parisi – Legacy of Terror: Featurette on the historic house location
Peter Still Lives: Festival Q&A with actor Peter Bark
Interviews with actor Simone Mattioli, producer Gabriele Crisanti, and actress Mariangela Giordano
Deleted/extended scenes and shots plus theatrical trailer
Limited Edition of 3000 with O-Sleeve feature exclusive new art by Wes Benscoter
Purchases through the Severin Films Store online will receive free 12×18 poster or a Special Bundle Package is being offered with folded Poster, enamel pin and 'Smells Of Death' T-shirt.
More info here at: Severin Films
---
C.H.U.D. (1984)
You know them. You love them. You make reference to them regularly. They're C.H.U.D.—"Cannibalistic Humanoid Underground Dwellers"—and they live beneath the streets of New York City, emerging every so often to munch on passersby. C.H.U.D. has ruled as a metal, punk, and pop culture trope since the movie first opened in 1984. Horror hounds and constant cable-TV showings generated a proper C.H.U.D. cult, but most jokers who bring up C.H.U.D. have never actually seen the movie.
Arrow Films's new Blu-ray release now makes C.H.U.D. look and sound greater than it ever has in the past. The bonus materials alone will have you peeking fearfully down manhole covers and drain gates next time you're in Manhattan.
SPECIAL FEATURES:
• Brand new restoration from original film elements in HD Blu-ray (1080p) presentation
• Audio commentary by director Douglas Cheek, writer Shepard Abbott, and actors John Heard, Daniel Stern, and Christopher Curry
• Brand new crew interviews
• Original Theatrical Trailer
• Reversible sleeve featuring original and newly commissioned artwork by Dan Mumford
The first printing only also includes a collector's booklet featuring new writing on the film.
Get more info: Arrow Films
---
DEATH MACHINES (1976)
DEATH MACHINES (1976, trailer) Ron Marchini
Right around the same time AC/DC and Rose Tattoo were initially tearing hard rock asunder Down Under, "Ozploitation" cinema also took full flight, with scrappy screen-stormers such as The Cars That Ate Paris and The Man From Hong Kong ultimately begetting the Mad Max universe.
Death Machines is one very weird-headed Ozploitation nugget. It combines martial-arts with horror with international intrigue, and it's got a high-haired Evil Asian Dragon Lady, some of the most unintentionally comic hand-to-hand combat battles ever filmed, and a chintzy synthesizer score. The movie is terrible and fantastic.
SPECIAL FEATURES:
Scanned & restored in 4k from 35mm Techniscope camera negative
Commentary track and introduction from director Paul Kyriazi
 Director introduction
Interviews with actor Michael Chong and Joshua Johnson
Trims, outtakes, and trailers
More info: Vinegar Syndrome
---
BUTCHER, M.D. aka ZOMBIE HOLOCAUST (1982)
Doctor Butcher MD: Medical Deviate (1980) - HD Trailer [720p]
Dr. Butcher, M.D. (Medical Deviate) may well be the definitive splatter film of the grindhouse era that raged in the dozens of trash-pit theaters along New York's 42nd Street and Times Square. Dr. Butcher also ruled as a "big box" VHS tape, turning VHS viewing parties into puke-a-thons as even the most hardened headbangers and seen-it-all punks turned green over the movie's copious eruptions of red glop.
The movie itself—both in its best-known Dr. Butcher form and its original (not as cool) incarnation, Zombie Holocaust—is a riot of cinematic sadism and splatter gore. On top of that, the exploitation marketing of Dr. Butcher was a masterwork of gut-bucket ballyhoo. Severin's Dr. Butcher Blu-ray honors both those aspects of this sicko cinematic sensation with pristine presentations of the films themselves, and a bevy of bonus items that answer questions you can't even imagine you actually had.
SPECIAL FEATURES:
Butchery and Ballyhoo: Interview with Aquarius Releasing's Terry Levene.
Down on the Deuce: Nostalgic Tour of 42nd Street w/Temple Of Shock's Chris Pogialli and filmmaker Roy Frumkes.
The Butcher Mobile: A rare on-camera interview with the reclusive Gore Gazette Editor / Butcher Mobile barker Rick Sullivan.
Cutting Dr. Butcher: Interview with editor Jim Markovic.
Illustrated Essay: "Experiments with a Male Caucasian Brain (…and other memories of 42nd Street)" by Gary Hertz. The Doctor from the Butcher Mobile recalls his days on the Deuce.
More info: Severin-Films
---
I DRINK YOUR BLOOD (1970)
I Drink Your Blood (Grindhouse Releasing) Unboxing!
I Drink Your Blood is a trip. Longhaired cult leader Horace Bones (Bhaskar Roy Chowdhury) opens the movie with a black magic ritual wherein he instructs his youthful, denim-and-leather-clad followers: "Let it be known, sons and daughters, that Satan was an acid head! Drink from his cup! Pledge yourselves—and together, we'll all freak out!"
And freak out, they do. After the devil-worshipping hippies down their LSD and orgy it up, they harass the squares in a small town, then unknowingly eat meat pies injected with rabid dog blood, which turns them into kill-crazed, flesh-eating zombies. From there, the frantic, gore-spraying, sanity-decimating fun never stops until I Drink Your Blood's final line of dialogue, which is too bizarre and too immediately unforgettable to spoil here. You do have to see it and, even then, you might not believe it.
One of crackpot cinema's most dynamic cult classics, I Drink Your Blood has gotten a deluxe Blu-ray treatment from the headbanging heroes at Grindhouse Releasing. There's even a "Horror Hypo" toy to turn your friends into foaming-mouthed monstrosities! Grindhouse works with the most impressively stupefying motion pictures ever made, and they treat them accordingly.
SPECIAL FEATURES:
Spectacular new HD restoration of the original Uncensored Director's Cut
4 controversial deleted scenes including the original blood-drenched ending deemed too disturbing for '70s audiences!
Provocative audio commentary by director David Durston and star Bhaskar
Newly recorded audio commentary by stars Jack Damon and Tyde Kierney
Revealing on-camera interviews with stars Lynn Lowry, Tyde Kierney and Jack Damon
New in-depth interview with director David Durston
The original theatrical trailer and radio spots
Extensive gallery of stills and poster art
Rare and shocking film of Bhaskar performing "The Evil King Cobra Dance"
Two Bonus Co-Feature Films: I Eat Your Skin (1964) – presented for the very first time in HD + exclusive interview with 2nd unit director William Grefe
Blue Sextet (1969) – David Durston's long-lost X-rated psychedelic shocker – presented for the very first time on home video!
More info: Grindhouse Releasing
---
THE KILLING OF AMERICA (1981)
The Killing of America - Severin Films Trailer
The mondo disgusto pseudo-documentary Faces of Death was an essential headbanger rite-of-passage on VHS for well over a decade. During the pseudo snuff video craze that arose from Faces, The Killing of America ranked among the films traded among gore fiends on bootleg cassettes. Be assured, though: The Killing of America is no Faces of Death—and that is a high compliment.
Killing, in fact, is a well-made documentary about the rise of a new kind of passion for murder and gun violence in the United States, directed by Leonard Schrader (brother of filmmaker Paul Schrader). It combines footage of actual assassinations, executions, autopsies, riots, snipers, and street violence with interviews of law-breakers and members of law enforcement alike.
SPECIAL FEATURES:
Audio commentary by director Sheldon Renan
Interviews with director Sheldon Renan, editor Lee Percy, and Mondo Movie historian Nick Pinkerton
More info: Severin Films
---
RABID (1977)
https://youtu.be/WLMliEoJIi8
Early porn superstar Marilyn Chambers stars as a blood-sucking biker in Rabid, an early body-horror stunner from master David Cronenberg. Marilyn is no traditional vampire, though. She drains fluids from her sex partners by way of a phallic suction stem that protrudes from her armpit. If that plot sounds like a combination of power metal and grindcore lyrics, rest assured that the movie plays that way, too.
SPECIAL FEATURES:
New 2K Scan From The Negative At Director David Cronenberg's Preferred Aspect Ratio (1.66:1)
New Audio Interview With Author Jill C. Nelson (Golden Goddesses: 25 Legendary Women Of Classic Erotic Cinema, 1968-1985) and Marilyn Chambers' Personal Appearances Manager Ken Leicht
New Interview With Actress Susan Roman
Audio Commentary With Writer/Director David Cronenberg
Audio Commentary With William Beard, Author Of The Artist As Monster: The Cinema Of David Cronenberg
Archival Interview With David Cronenberg
Interview With Executive Producer Ivan Reitman
Interview With Co-producer Don Carmody
From Stereo To Video – A Video Essay By Caelum Vatnsdal, Author Of They Came From Within: A History Of Canadian Horror Cinema
Original Theatrical Trailer And TV Spot
Radio Spots (U.S. And U.K.)
Still Gallery
More info: Shout Factory
---
RETURN OF THE LIVING DEAD 3 (1993)
Related in name only to the first two quintessentially punk-metal undead sagas, Return of the Living Dead 3 is a terrific terror film in its own right (and infinitely preferable to the largely inert Part II).Just as the original Return embodied the thrash crossover cultural moment, ROLTD3 incorporates bold hard-rock elements in keeping with the movie's early-'90s release date: industrial-inspired body modification and a zombie queen who is best described as a goth ghoul gone wild.
SPECIAL FEATURES:
Audio Commentary with Director Brian Yuzna, Actress Melinda Clarke, and Special Make-Up Effects Artist Tom Rainone
"Ashes to Ashes" Conversation with Director Brian Yuzna and Screenwriter John Penney
Interviews with Actress Melinda Clarke, actor J. Trevor Edmond, production executive David Tripet, editor Chris Roth, and special effects designers Steve Johnson and Chris Nelson
More info: Vestron Video
---
RUSH: TIME STAND STILL (2016)
Rush | Time Stand Still - Official Theatrical Trailer
Direct from its recent one-night-only theatrical showing, Rush: Time Stand Still arrives on Blu-ray. Paul Rudd, who so perfectly portrayed a Rush nut in both I Love You Man and a short film the group has shown in concert, narrates this documentary about the Canadian prog-metal power trio's final trek as a touring entity. From word one, Rudd gets it right. Rush themselves, of course, are always a supreme pleasure. The Blu-ray adds 67 minutes to the theatrical cut, and a deluxe bundle includes a bunch of cool keepsakes.
SPECIAL FEATURES:
Over an hour of unreleased bonus content
T-shirt, lithograph, and Collector's Tickets
More info: Rush Backstage Club
---
SACRIFICE! aka THE MAN FROM DEEP RIVER (1972)
Few movie categories inspire more diehard dedication than vintage man-as-meat movies made by Italiams. Sacrifice! is the stomach-turner that started it all. In fact, a decade after splatter maestro Umberto Lenzi launched the cannibal horror genre with this film, he went on to direct the genre's definitive grand-scale gross-out epic, Cannibal Ferox aka Make Them Die Slowly (1981).
As with the rest of Italy's flesh-feast films, Sacrifice! takes its essential template from the once-popular Hollywood shock-western A Man Called Horse (1970), as its outsider hero (John Bradley) adventures into the wilderness—here, the jungles of Thailand—and must endure grotesque tortures of local tribes.
SPECIAL FEATURES:
Documentary "Cannibal World (Mondo Cannibale)"
New HD transfer, illustrated booklet, and improved English subtitlesMore info: Raro Video


---

THE SINFUL DWARF (1973)

The Sinful Dwarf (1973) trailer

As a mythical creature, the dwarf is inherently metal. Consider such beings' Germanic mountain origins and the role they play in Lord of the Rings—along with over music connections such as the Canadian shred squad Killer Dwarfs and San Franciso noise-punks, Dwarves. A dwarf who embraces evildoing, then, would only be that much more metal. Such a prospect is smashingly on display in The Sinful Dwarf, a psychotic Danish sexploitation dumbfounder that may not bear any direct ties to metal music—except that Torben Bille, who plays Olaf, the pint-sized terror of the title, uncannily resembles Tenacious D co-leader and dedicated Hollywood headbanger Jack Black.

The sinning starts immediately in Dwarf, as Olaf uses mechanical toy dogs and other low-tech trickery to lure unsuspecting nubiles to his attic lair. Once there, he chains his victims up, gets them addicted to dope, and turns them out as sex slaves for hire (and he keeps all their money). Olaf also lives with his mom. Their relationship is, let us say, unhealthy.

Also, do note: The Sinful Dwarf transgresses taboos so blatantly and remorselessly that it was banned in Sweden—which is no small feat, as evidenced by the maniacal movies discussed in Swedish Sensationsilms: A Clandestine History of Sex, Thrillers, and Kicker Cinema.

SPECIAL FEATURES:
• The Dwarf – Strong International Version

The Abducted Bride – Alternate US Release Version
The Harry Novak Story – Featurette On The Sultan Of Sexploitation With American Grindhouse Director Elijah Drenner
The Blue Balloon – 1973 Feature Film, Never Before Released On Any Home Video Format
The Hottest Show in Town – Excerpt From Torben Bille Sex Film
The Search For Torben – Featurette On Effort To Find Cast/Crew From The Sinful Dwarf
The Severin Controversy – Featurette on the lasting effects The Sinful Dwarf
Trailers, TV Spot, Radio Spot

More info:Severin-Films

---

TAXI DRIVER: 40th ANNIVERSARY EDITION (1976)

Taxi Driver - The Ending Scene

Travis Bickle has been seething about the world's seedy slide into irredeemable corruption, blowing away scum, and reigning as a Mohawk-adorned symbol of hard rock isolation-turned-outrage for four decades now. Taxi Driver is the career pinnacle masterpiece of director Martin Scorsese, screenwriter Paul Schraeder, and star Robert De Niro (as Bickle, of course). It is an essential keystone of punk cinema that's also been embraced by heavy metal from the first time Travis's cab emerges through all that sewer steam.

Sony Pictures' 40th Anniversary Edition Blu-ray of the film is well worth the upgrade from any previous formats on which you own Taxi Driver. Its inherently ugliness looks more beautiful than ever, and the bonus features—especially a new Q&A with the essential figures—hit with the impact of Bickle himself on a makeshift East Village whorehouse.

SPECIAL FEATURES:

Three-disc set
All-new 40-Minute TAXI DRIVER Q&A – Featuring Martin Scorsese, Robert De Niro, Jodie Foster and many more. Recorded live at the Beacon Theatre in New York City at the 2016 Tribeca Film Festival
Interactive Script to Screen
Original 1986 Commentary with Director Martin Scorsese and Writer Paul Schrader recorded by The Criterion Collection
Commentaries by Writer Paul Schrader and by Professor Robert Kolker
Martin Scorsese on Taxi Driver
Producing Taxi Driver
God's Lonely Man
Taxi Driver Stories
Travis' New York
Travis' New York Locations
Theatrical Trailer
Making of Documentary
Storyboard to Film Comparisons with Martin Scorsese Introduction
Animated Photo Galleries

More info:Taxi Driver: 40th Anniversary Blu-ray
---
And if you think this epic roundup of new release details for one month's Blu-ray offerings is insane, you are absolutely right! Now follow this madness beyond all limits with Mike "McBeardo" McPadden's HEAVY METAL MOVIES: Guitar Barbarians, Mutant Bimbos, and Cult Zombies Amok in the 666 Most Ear- and Eye-Ripping Big Scream Films Ever!