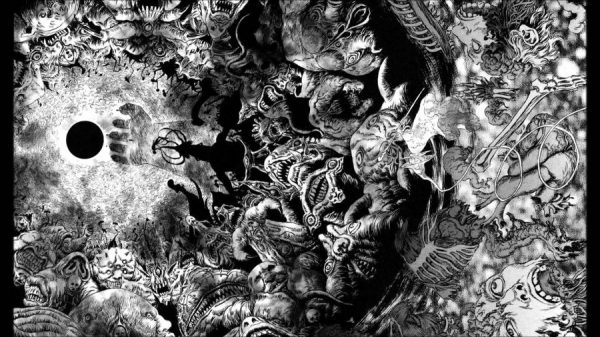 BLOODY ROOTS OF METAL'S ULTRA-HEAVY PROGRESSIVE FRINGES
Week of December 3, 2016
Sat 12/3, 6PM ET
Sun 12/4, 1PM ET
Mon 12/5, 9AM ET
Tues 12/6, 4PM ET
Thurs 12/8, 9PM ET
Today's show peers into a nuclear telescope to explore the vast outer fringes of today's crushing progressive metal pioneers. Emerging from various scenes including death metal, doom, and technical progressive metal, bands including Gorguts, Ahab, SubRosa, the Ocean, Cult of Luna, and Ne Obliviscaris summon massive atmosphere and power. We put them all together and hope the Earth holds its orbit. Know your Roots!
For a primer on the first forty years of progressive metal, check out MEAN DEVIATION: Four Decades of Progressive Heavy Metal, by former Metal Maniacs editor Jeff Wagner. 
PLAYLIST:
GORGUTS – "An Ocean of Wisdom" from COLORED SANDS
AHAB – "The Isle" from THE BOATS OF THE GLEN CARRIG
SUBROSA – "Killing Rapture" from FOR THIS WE FOUGHT THE BATTLE OF AGES
NE OBLIVISCARIS – "Devour Me, Colossus, Part I: Blackholes" from CITADEL
THE OCEAN – "The Quiet Observer" from TRANSCENDENTAL
CULT OF LUNA – "Dark City Dead Man" from SOMEWHERE ALONG THE HIGHWAY
Bloody Roots is Sound of the Beast author (and Bazillion Points publisher) Ian Christe's heavy metal history show on Sirius XM Liquid Metal channel 40. Since June 2004, each weekly show has examined another subgenre, band, movement, region, or theme in metal, punk, and heavy rock. The show is available on-demand online from SiriusXM.com.