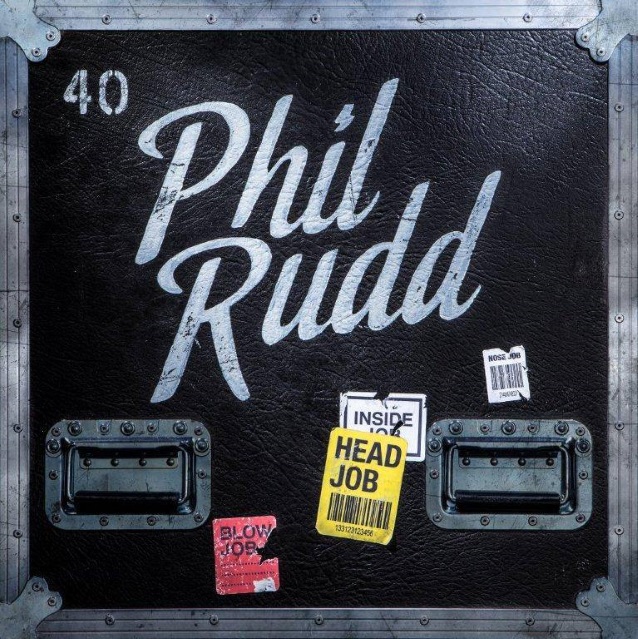 The unmistakable thunder blasts of down-under drummer Phil Rudd powered twelve of AC/DC's sixteen albums. He anchoring the group's initial avalanche of hard rock classics from 1975 through 1983; the first half of that period is chronicled by bass-banging bandmate and tour roommate Mark Evans in DIRTY DEEDS: My Life Inside/Outside of AC/DC. Rudd left AC/DC for a decade, then returned in the mid-1990s for a twenty-year stint.
In 2017, the rough-hewn Rudd will finally hit the road in support of his 2014 solo outing Head Job, an overlooked record which, in a convoluted way, figured into criminal charges and the beat-pounder's lasting departure from AC/DC. Rudd was reported to have been so furious over the mishandling of Head Job that he was accused of seeking out assassins to "handle" the individuals he blamed for it. Those murder-for-hire charges disappeared fast, but the incident disrupted his involvement with AC/DC's Rock or Bust tour, and he's been out of the band ever since.
Wouldn't you know it, Head Job proves yet again that bad behavior makes for good rock 'n roll. Catch the act up close and personal at a den of sin near you:
Mar. 31 – Hard Rock Café – Oslo, Norway
Apr. 01 – Musiik Kielleren – Jossingfjord, Norway
Apr. 07 – Storlian Rockfest – Storlian, Sweden
Apr. 28 – Bonfest – Scotland, UK
May 02 – Kaufleuten – Zurich, Switzerland
May 03 – Arena – Vienna, Austria
May 04 – Cinema Paradiso – St Polten, Austria
May 05 – Phenomenon – Novarra, Italy
May 06 – Legend Club – Ravena, Italy
May 07 – Durer Kert Big Hall – Budapest, Hungary
May 10 – Lucerna Music Bar – Prague, Czech Republic
May 11 – Brno Semi Lasso – Brno, Czech Republic
May 12 – Livinov Attic Music Club – Litvino, Czech Republic
May 13 – Jablonec N/N – Eurocentrum, Czech Republic
May 16 – Bratislava Rock Café – Dudravka, Slovakia
May 17 – Ostrava Barrack Club – Moravska Ostrava, Slovakia
May 18 – Zilina Dom Odrobov – Ziliana, Slovakia
May 19 – Sk Presov – Pko Presov, Slovakia
May 20 – Pardudice – Zluty Pes, Czech Republic
May 21 – Band On The Wall – Manchester, UK
May 24 – The Brook – Southampton, UK
May 25 – Concorde – Brighton, UK
May 26 – St Albans Arena – St Albans, UK
May 27 – Underworld – London, UK
May 28 – Corn Exchange – Edinburgh, UK
And pick up  DIRTY DEEDS: My Life Inside/Outside of AC/DC by Mark Evans for tales of the days when Evans, Rudd, Young, Young, and Bon Scott first visit this same terrain during the hellbent rise to fame of hard rock's greatest band.