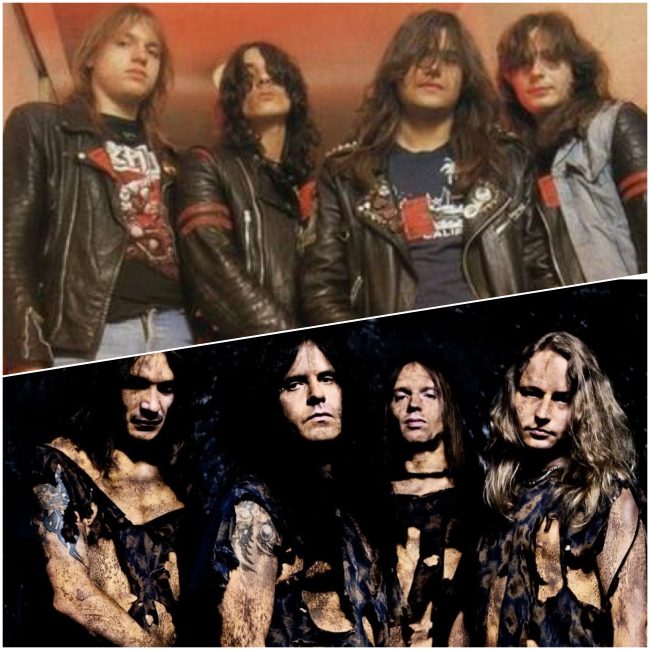 BLOODY ROOTS OF THRASH METAL EVOLUTION 1986-2016 on SiriusXM
Week of December 10, 2016
Sat 12/10, 6PM ET
Sun 12/11, 1PM ET
Mon 12/12, 9AM ET
Tues, 12/13, 4PM ET
Thurs 12/15, 9PM ET
Seizing on the flood of stellar releases by thrash metal veterans during 2016, this week's show goes back exactly 30 years to 1986 for side-by-side pairings of early and brand new tracks by Flotsam & Jetsam, Megadeth, Sodom, Kreator, Voivod, and, yes, Metallica. Hear the evolution of the voices of high-speed experience—on Bloody Roots!
Check out the exhaustive collection of 400 photos from thrash metal's earliest moments in the heavyweight book MURDER IN THE FRONT ROW: Shots From the Bay Area Thrash Metal Epicenter, by Harald Oimoen and Brian Lew
PLAYLIST:
FLOTSAM AND JETSAM – "Iron Maiden" from FLOTSAM AND JETSAM
FLOTSAM AND JETSAM – "Iron Tears" from DOOMSDAY FOR THE DECEIVER
SODOM – "Caligula" from DECISION DAY
SODOM – "Equinox" from OBSESSED BY CRUELTY EUROPEAN
KREATOR – "Pleasure To Kill" from PLEASURE TO KILL
KREATOR – "Gods Of Violence" from GODS OF VIOLENCE
VOIVOD – "Ripping Headaches" from RRROOOAAARRR
VOIVOD – "Post Society" from POST SOCIETY EP
MEGADETH – "Death From Within" from DYSTOPIA
MEGADETH – "The Conjuring" from PEACE SELLS
METALLICA – "Damage Inc" from MASTER OF PUPPETS
METALLICA – "Moth Into Flame" from HARDWIRED
Bloody Roots is Sound of the Beast author (and Bazillion Points publisher) Ian Christe's heavy metal history show on Sirius XM Liquid Metal channel 40. Since June 2004, each weekly show has examined another subgenre, band, movement, region, or theme in metal, punk, and heavy rock. The show is available on-demand online from SiriusXM.com.