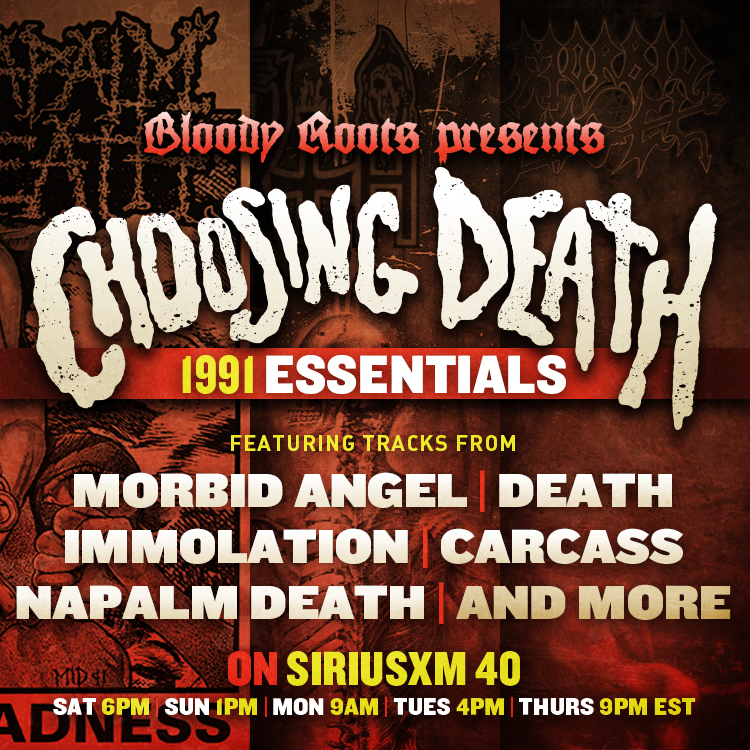 BLOODY ROOTS OF DEATH METAL IN 1991: THE CHOOSING DEATH ESSENTIALS
w/guest Albert Mudrian, author of CHOOSING DEATH / editor of DECIBEL
Sat 12/17, 6PM ET
Sun 12/18, 1PM ET
Mon 12/19, 9AM ET
Tues 12/20, 4PM ET
Thurs 12/22, 9PM ET
This week, host Ian Christe ("Sound of the Beast," Bazillion Points) welcomes guest Albert Mudrian, editor of Decibel and author of the newly revised and expanded CHOOSING DEATH: An Improbable History of Death Metal and Grindcore, for a plunge into the rich pageant of death metal in 1991, a quarter-century ago. Mudrian reveals the year's essential tracks as pulled from his book, and Bloody Roots explodes with the revolutionary sounds of Morbid Angel, Death, Carcass, Paradise Lost, Napalm Death, Bolt Thrower, Entombed, Dismember, and many more. Wreck the halls, and know your Roots!
Order the expanded and revised 400pp CHOOSING DEATH directly from the publisher and receive a free 4″ square woven color patch featuring new cover artwork by Dan Seagrave (Entombed, Morbid Angel, Suffocation).  
PLAYLIST:
Morbid Angel – "Thy Kingdom Come" from BLESSED ARE THE SICK
Death – "Suicide Machine" from HUMAN
Immolation – "Immolation" from DAWN OF POSSESSION
Ripping Corpse – "Sweetness" from DREAMING WITH THE DEAD
Napalm Death – "Mass Appeal Madness" from MASS APPEAL MADNESS EP
Bolt Thrower – "Cenotaph" from WAR MASTER
Carcass – "Incarnated Solvent Abuse" from NECROTICISM
Entombed – "Crawl" from CRAWL EP
Dismember – "Override of the Overture" from LIKE AN EVER FLOWING STREAM
Tiamat – "Ancient Entity" from THE ASTRAL SLEEP
Paradise Lost – "Dead Emotion" from GOTHIC
Bloody Roots is Sound of the Beast author (and Bazillion Points publisher) Ian Christe's heavy metal history show on Sirius XM Liquid Metal channel 40. Since June 2004, each weekly show has examined another subgenre, band, movement, region, or theme in metal, punk, and heavy rock. The show is available on-demand online from SiriusXM.com.
CHOOSING DEATH: The Improbable History of Death Metal & Grindcore, by Albert Mudrian