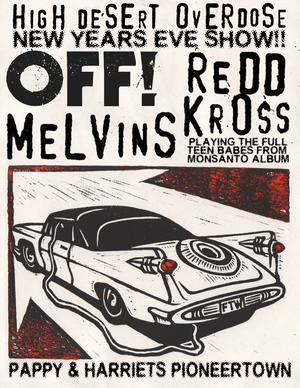 Melvins with new bass player Steve McDonald at practice
Sugar-rush punk-whelped power popsters Redd Kross, sludge gods the Melvins, and the murderers' row hardcore collective Off! already shared much in common. Each has West Coast roots, each takes uniquely skewed approaches to big rock traditions, and, of course, they all kick up utterly monstrous punk-metal freak storms that can only be their own. Collectively, the bands have released hundreds of records, and played thousands of shows.  This week, they're doing it together—and with the same bass player.
Tonight at the Observatory in Santa Ana, CA, longhaired L.A. rhythm dervish Steven Shane McDonald will stand astride his rig for multiple hours as the killer lineup of Redd Kross, the Melvins, and OFF! sets off a week that will go down in LA punk history. And Redd Kross is playing the entire Teen Babes record—raucous reworkings of Kiss, the Stones, Bowie, the Stooges, the Shangri-Las, Boyce and Hart (from their favorite Bewiched episode!) and the brothers' own original scrappy punk squad, Red Cross! As Falling James puts it in the LA Weekly, "#3waysteve Is Happening!"
By the end of the evening, Steve McDonald will have banged his head so hard and so often, he could wind up with a concussion. The shaggy-haired local bassist is playing with all three bands tonight, starting with Redd Kross, the group he began with his brother Jeff in 1979, when they were just 12 and 16 years old, respectively. They'll reprise their 1984 covers EP, Teen Babes From Monsanto, although Redd Kross' redoubtable current lineup lacks much of the frenzied intensity of the early-'80s version. Steve will play even faster and harder with the Keith Morris–fronted hardcore supergroup Off! before relenting slightly for the momentous riff-wallowing of grunge survivors Melvins. Also at Pappy & Harriet's, Saturday, Dec. 31.
The Saturday show is a proper New Year's Eve bacchanal, labeled a "High Desert Overdose," at Pappy and Harriet's in high desert Pioneertown, California.
So brace yourself for one of those fractured jaws from grinning, and prepare to ring in 2017 righteously.
Redd Kross during the Teen Babes era is documented by photos and contributions from the McDonald Brothers in We Got Power!: Hardcore Punk Scenes From Southern California by David Markey and Jordan Schwartz. (The boys also co-starred in Desperate Teenage Lovedolls (1984) and Lovedoll Superstar (1986), brilliantly hilarious and hard-rocking punk cinema classics directed by Markey.)
https://www.bazillionpoints.com/shop/we-got-power-hardcore-punk-scenes-from-1980s-southern-california-by-david-markey-and-jordan-schwartz/