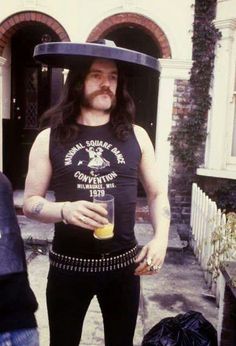 BLOODY ROOTS OF METAL DRINKING SONGS
Week of Dec. 31, 2016
Sat 12/31, 6PM ET
Sun 1/1, 1PM ET
Mon 1/2, 9AM ET
Tues 1/3, 4PM ET
Thurs 1/5, 9PM ET
Each week we look at another country, a new theme, crucial key moments… and tonight we crack open a fresh case of metal drinking songs. Salute the season with glasses high, toasting and singing along with off-balance anthems by Wehrmacht, Motorhead, Bulldozer, Tom Angelripper, Tankard, Gehennah, Municipal Waste, Darkthrone, Murphy's Law, Final Conflict, the Amebix, Gang Green, and a few more for the road. Crash your glasses, and know your Roots! Happy New Year 2017!
PLAYLIST:
ALKOHOLIZER – "Alkoholik Metal" from DRUNK OR DEAD
GEHENNAH – "We Love Alcohol" from DECIBEL REBEL
TOXIC REASONS – "Drunk and Disorderly" from THE MASTER TAPE
ALESTORM – "Drink" from SUNSET ON THE GOLDEN AGE
DARKTHRONE – "Whiskey Funeral" from THE CULT IS ALIVE
MURPHY'S LAW – "Beer" from MURPHY'S LAW
ATROPHY – "Beer Bong" from SOCIALIZED HATE
WEHRMACHT – "Drink Beer Be Free" from BIERMACHT
BULLDOZER – "Whiskey Time" from THE DAY OF WRATH
MOTORHEAD – "Beer Drinkers and Hell Raisers" from BEER DRINKERS
FINAL CONFLICT – "More Beer" from DEATH IS CERTAIN
GANG GREEN – "Alcohol" from ANOTHER WASTED NIGHT
MUNICIPAL WASTE – "The Inebriator" from THE ART OF PARTYING
ABIGAIL – "Beer! Metal! Sex!" from ULTIMATE UNHOLY DEATH
SARCOFAGO – "Sex, Drinks & Metal" from ROTTING
TOM ANGELRIPPER – "Caramba, Caracho, ein Whiskey" from EIN SCHONER TAG
NORDHEIM – "Beer, Metal, Trolls and Vomit!" from LOST IN THE NORTH
KORPIKLAANI – "Bring Us Pints Of Beer" from KARKELO
TANKARD – "Die With a Beer in Your Hand" from BEAST OF BOURBON
AMEBIX – "Drink + Be Merry" from ARISE!
Bloody Roots is Sound of the Beast author (and Bazillion Points publisher) Ian Christe's heavy metal history show on Sirius XM Liquid Metal channel 40. Since June 2004, each weekly show has examined another subgenre, band, movement, region, or theme in metal, punk, and heavy rock. The show is available on-demand online from SiriusXM.com.