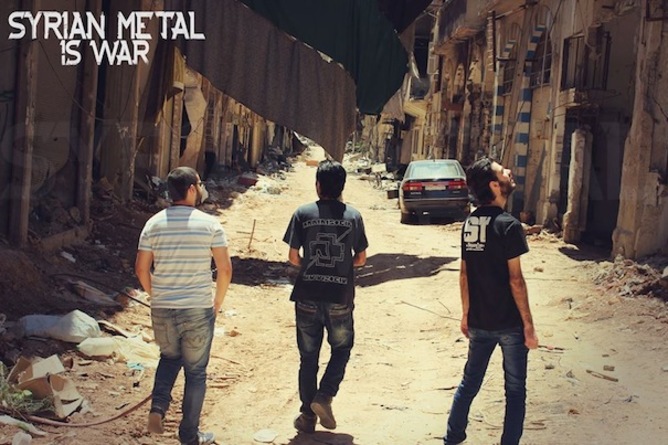 BLOODY ROOTS OF SYRIAN METAL
Week of January 14, 2017
Sat 1/14, 6PM ET
Sun 1/15, 1PM ET
Mon 1/16, 9AM ET
Tues 1/17, 4PM ET
Thurs 1/19, 9PM ET
This week's metal history lesson celebrates the passionate, dedicated, and massively brave metal bands of Syria. Blackspell, Laxsid, Netherion, Haunted Cellar, Anarchadia, Abidetherin, Theoria, and others present the viewpoints of metalheads raging against total adversity in an active war zone. We salute our brothers in metal halfway across the world and honor the hardship and crisis they have faced for many years now. Know your Roots!
View the trailer for the unfinished documentary film by Monzer Darwish, SYRIAN METAL IS WAR:
PLAYLIST:
BLACKSPELL – "The Philanthropist" from CULTURAL REFERENCE
LAXSID – "Live to Hate" from ORIENTAL DEMOLITION
ANARCHADIA – "Occupy the Wall" from LET US ALL UNITE
CRESCENT MOON – "Alleys of Negation" from THE WALL OF LIGHT
ABIDETHEREIN – "The Dislocated and the Sisyphean Project" from SINGLE
THEORIA – "Theoria" from MANTRA
VIIEDEN – "Scripture Rider Homicide" from CALAMITIES INFLICTED
PSYCHIATRIC DELUSIONS – "The Blackest Of Days" from DISPIRITED
HAUNTED CELLAR – "The Divinity Of Loneliness" from INFERNAL DELUSIONS
NETHERION – "Catastrophic Reality" from SPHERE OF TERROR
Bloody Roots is Sound of the Beast author (and Bazillion Points publisher) Ian Christe's heavy metal history show on Sirius XM Liquid Metal channel 40. Since June 2004, each weekly show has examined another subgenre, band, movement, region, or theme in metal, punk, and heavy rock. The show is available on-demand online from SiriusXM.com.