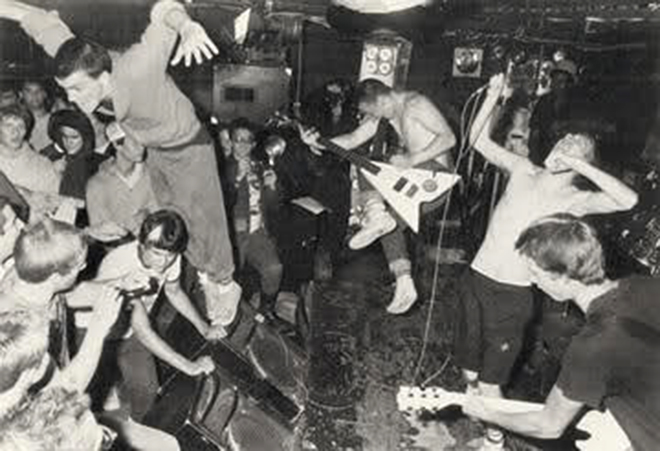 BLOODY ROOTS OF BOSTON HARDCORE
Week of January 21, 2017
Sat 1/21, 6PM ET
Sun 1/22, 1PM ET
Mon 1/23, 9AM ET
Tues 1/24, 4PM ET
Thurs 1/26, 9PM ET
Slap in your mouthpieces and strap on the brass knuckles, because this week we hitch a ride to Boston for a full-on historical beatdown courtesy of old-school hardcore killers DYS, SS Decontrol, Gang Green, Last Rights, Slapshot, Siege, plus more recent entries from one of the USA's hardest and tightest music scenes including Converge, Blood for Blood, the Hope Conspiracy, Panzerbastard, and many more! Hail the harbor, and know your Roots!
The rise of Boston hardcore is documented fully, along with all other early U.S. hardcore scenes, in TOUCH AND GO: The Complete Hardcore Punk Zine '79–'83, by Tesco Vee and Dave Stimson. Read the book!

PLAYLIST:
JERRY'S KIDS – "Is This my World" from IS THIS MY WORLD?
The F.U.'s – "Daisy Chain" from KILL FOR CHRIST
DYS – "Wolfpack" from BROTHERHOOD
SSD – "The Kids Will Have Their Say" from THE KIDS WILL HAVE THEIR SAY
SSD – "Words That Kill" from HOW WE ROCK
THE FREEZE – "No Exposure" – LAND OF THE LOST
THE FREEZE – "This is Boston not LA" from THIS IS BOSTON NOT L.A.
GANG GREEN – "Skate to Hell" from SKATE TO HELL
GANG GREEN – "Another Wasted Night" from ANOTHER WASTED NIGHT
LAST RIGHTS – "Chunks" from LAST RITES
STRAW DOGS – "Trigger Finger" from STRAW DOGS EP
WRECKING CREW – "Confusion" from BOSTON HARDCORE
SIEGE – "Walls" from DROP DEAD
SLAPSHOT – "Told You So" from SLAPSHOT
REACH THE SKY – "Tonight" from SO FAR FROM HOME
BANE – "Both Guns Blazing" from BUILDING THIS MOMENT
DEATH BEFORE DISHONOR – "True till' Death" from TRUE TILL DEATH
CONVERGE – "Concubine" from JANE DOE
THE HOPE CONSPIRACY – "Hang Your Cross" from DEATH KNOWS YOUR NAME
BOSTON STRANGLER – "Primitive" from PRIMITIVE
BLOOD FOR BLOOD – "Ain't Like You" from OUTLAW ANTHEMS
TEN YARD FIGHT – "Running Scared" from BACK ON TRACK
PANZERBASTARD – "The Devil Wins Every Time" from MOTORHEATHEN
TENEBRAE – "Wake Up" from PROMO
Bloody Roots is Sound of the Beast author (and Bazillion Points publisher) Ian Christe's heavy metal history show on Sirius XM Liquid Metal channel 40. Since June 2004, each weekly show has examined another subgenre, band, movement, region, or theme in metal, punk, and heavy rock. The show is available on-demand online from SiriusXM.com.