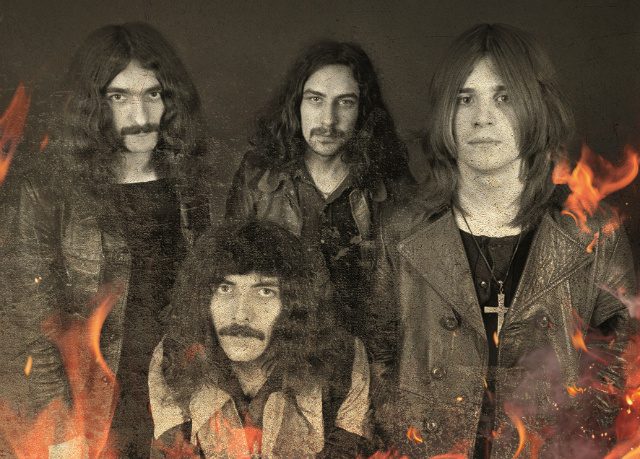 BLOODY ROOTS GOODBYE TO BLACK SABBATH
Week of February 4, 2017
Sat 2/4, 6PM ET
Sun 2/5, 1PM ET
Mon 2/6, 9AM ET
Tues 2/7, 4PM ET
Thurs 2/9, 9PM ET
This special two-hour metal history lesson celebrates five decades of Black Sabbath, marking the first heavy metal band's final career tour appearance in their Birmingham, England, hometown on February 4. The Earth's crust trembles and the heavens shake to the sounds of Black Sabbath songs spanning nearly 50 years, plus faithful tributes by Sabbath apostles Faith No More, Pantera, Slayer, Sleep, Metallica, Entombed, Helmet, Soundgarden, Megadeth, Anthrax, Opeth, and others, all household names in their own rights. Know your Roots—we love you all!
Read the full scope of Black Sabbath's musical impact in SOUND OF THE BEAST: The Complete Headbanging History of Heavy Metal, by Ian Christe.
PLAYLIST:
BLACK SABBATH – "N.I.B." from BLACK SABBATH
BLACK SABBATH – "Children Of The Grave" from MASTER OF REALITY
FAITH NO MORE – "War Pigs" from LIVE AT THE BRIXTON ACADEMY
PANTERA – "Electric Funeral" from NATIVITY IN BLACK II
SLAYER – "Hand Of Doom" from NATIVITY IN BLACK II
ENTOMBED – "Under the Sun" from SONS OF SATAN PRAISE THE LORD
BLACK SABBATH – "Cornucopia" from VOL. 4
HELMET – "Lord of This World" from NATIVITY IN BLACK III
SOUNDGARDEN – "Into The Void" from JESUS CHRIST POSE
SLEEP – "Snowblind" from MASTERS OF MISERY
METALLICA – "Sabbra Cadabra" from GARAGE INC.
CATHEDRAL – "St. Vitus Dance" from NATIVITY IN BLACK
BLACK SABBATH – "Falling off the Edge of the World" from MOB RULES
BLACK SABBATH – "Zero The Hero" from BORN AGAIN
ANTHRAX – "Sabbath Bloody Sabbath" from INDIANS EP
BLACK SABBATH – "Time Machine" from DEHUMANIZER
EYEHATEGOD – "Sabbath Jam" from AxCx SPLIT
BLACK SABBATH – "Season of the Dead" from THE END EP
MEGADETH – "Never Say Die" from WARCHEST
BLACK SABBATH – "Black Sabbath" from BEAT CLUB 1970
OPETH – "Solitude" from PALE COMMUNION
Bloody Roots is Sound of the Beast author (and Bazillion Points publisher) Ian Christe's heavy metal history show on Sirius XM Liquid Metal channel 40. Since June 2004, each weekly show has examined another subgenre, band, movement, country, or theme in metal, punk, and heavy rock. The show is available on-demand online from SiriusXM.com.