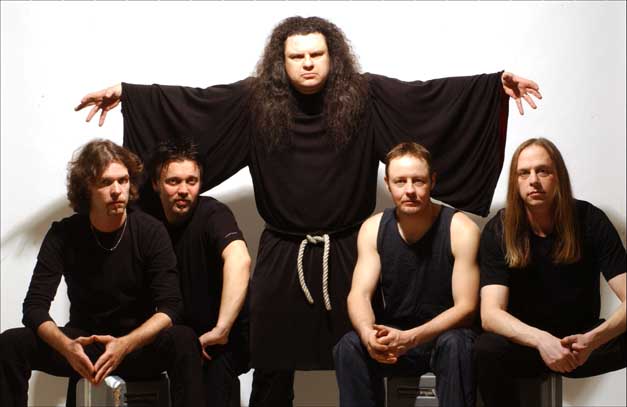 BLOODY ROOTS OF THE SONS OF SABBATH
Week of February 11, 2017
Sat 2/11, 6PM ET
Sun 2/13, 1PM ET
Mon 2/14, 9AM ET
Tues 2/15, 4PM ET
Thurs 2/17, 9PM ET
This week's metal history lesson uproots the fundamentalist metal bands over the ages who have departed from the primordial footsteps of Black Sabbath. Soul-shattering songs by Cathedral, Candlemass, Saint Vitus, Sleep, Suck, the Obsessed, Trouble, Witchfinder General, and more. Know your Roots!
Read the full scope of Black Sabbath's musical impact in SOUND OF THE BEAST: The Complete Headbanging History of Heavy Metal, by Ian Christe.
PLAYLIST:
SUCK – "War Pigs" – TIME TO SUCK
PENTAGRAM – "When the Screams Come" from FIRST DAZE HERE
WITCHFINDER GENERAL – "R. I. P." from DEATH PENALTY
SAINT VITUS – "White Magic Black Magic" from SAINT VITUS
TROUBLE – "The Tempter" from PSALM 9
CANDLEMASS – "Solitude" from EPICUS DOOMICUS METALLICUS
THE OBSESSED – "Forever Midnight" from THE OBSESSED
SLEEP – "Holy Mountain" from HOLY MOUNTAIN
CATHEDRAL – "Autumn Twilight" from SOUL SACRIFICE
ORCHID – "Mouths Of Madness" from THE MOUTHS OF MADNESS
Bloody Roots is Sound of the Beast author (and Bazillion Points publisher) Ian Christe's heavy metal history show on Sirius XM Liquid Metal channel 40. Since June 2004, each weekly show has examined another subgenre, band, movement, country, or theme in metal, punk, and heavy rock. The show is available on-demand online from SiriusXM.com.