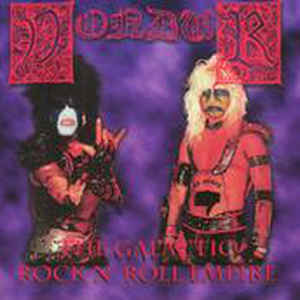 ROOTS Performs a Glam Metal Autopsy on SiriusXM
Week of February 18, 2017
What place do multiplatinum MTV glam metal bands Dokken, W.A.S.P., Mötley Crüe, Krokus, Twisted Sister, Def Leppard and Poison still have in a world of death metal, black metal, doom, thrash, and power metal? Check out some classic sleaze and guitar solos as vivisected and rerendered by Vondur, Hammerfall, Ares Kingdom, Acid Witch, Children of Bodom, Battle Beast, Seven Witches, Hatriot, Leng Tch'e, and others. Shake your soiled spandex, and know your Roots!
Bone up on the rise of glam pop metal and its eventual defeat in SOUND OF THE BEAST: The Complete Headbanging History of Heavy Metal, by Ian Christe.
PLAYLIST:
VONDUR – "Red Hot" from THE GALACTIC ROCK AND ROLL EMPIRE
IMPIOUS – "Live Wire" from MURDER MASQUERADE
SEVEN WITCHES – "Wasted" from PASSAGE TO THE OTHER SIDE
SIX FEET UNDER – "On Fire" from GRAVEYARD CLASSICS III
HATRIOT – "Midnite Maniac" from DAWN OF THE NEW CENTURION
CHILDREN OF BODOM – "Talk Dirty To Me" from ARE YOU DEAD YET?
BLOODSOAKED – "Shake Me" from RELIGIOUS APOCALYPSE
ARES KINGDOM – "Tooth and Nail" from VENERATION
HAMMERFALL – "We're Gonna Make It" from MASTERPIECES
ACID WITCH – "After Midnight" from MIDNIGHT MOVIES
BATTLE BEAST – "Wild Child" from UNHOLY SAVIOR
LENG TCH'E – "Looks That Kill" from WARSCARS SPLIT
Bloody Roots is Sound of the Beast author (and Bazillion Points publisher) Ian Christe's heavy metal history show on Sirius XM Liquid Metal channel 40. Since June 2004, each weekly show has examined another subgenre, band, movement, country, or theme in metal, punk, and heavy rock. The show is available on-demand online from SiriusXM.com.