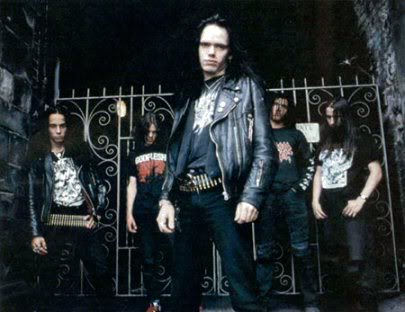 BLOODY ROOTS OF SWEDISH DEATH METAL GODS ENTOMBED
Week of February 25, 2017
Sat 2/25, 6PM ET
Sun 2/26, 1PM ET
Mon 2/27, 9AM ET
Tues 2/28, 4PM ET
Thurs 3/2, 9PM ET
The return of all-time death metal drum powerhouse Nicke Andersson to his former band Entombed deserves a special dedicated metal history session. Join us as we unearth the relentless power, melody, and groove of Stockholm, Sweden's, death metal magistrates featuring tracks from Entombed; the pre-Entombed band Nihilist; the post-Entombed bands Death Breath and Entombed AD; and covers by the righteous likes of Repugnant, Converge, and Candlemass. Know your Roots!
Stick your gravedigging shovel into the Entombed saga once and for all with Daniel Ekeroth's excellent SWEDISH DEATH METAL.
PLAYLIST:
ENTOMBED – "Eyemaster" from WOLVERINE BLUES
NIHILIST – "But Life Goes On" from PREMATURE AUTOPSY DEMO
NIHILIST – "Abnormally Deceased" from ONLY SHREDS REMAIN DEMO
NIHILIST – "Severe Burns" from DROWNED DEMO
NIHILIST – "Supposed to Rot" from PREMATURE AUTOPSY DEMO
REPUGNANT – "Carnal Leftovers" from PREMATURE BURIAL
ENTOMBED – "Left Hand Path" from LEFT HAND PATH
ENTOMBED – "Carnage" from WHEN IN SODOM
DEATH BREATH – "Death Breath" from STINKING UP THE NIGHT
DEATH BREATH – "Sacrifice (Bathory)" from LET IT STINK
ENTOMBED AD – "The Winner Has Lost" from DEAD DAWN
ENTOMBED AD – "The Underminer" from BACK TO THE FRONT
CONVERGE – "Wolverine Blues" from NAPALM DEATH SPLIT
CANDLEMASS – "To Ride, Shoot Straight, and Speak the Truth" from ENTOMBED SPLIT
ENTOMBED – "Living Dead" from CLANDESTINE
Bloody Roots is Sound of the Beast author (and Bazillion Points publisher) Ian Christe's heavy metal history show on Sirius XM Liquid Metal channel 40. Since June 2004, each weekly show has examined another subgenre, band, movement, country, or theme in metal, punk, and heavy rock. The show is available on-demand online from SiriusXM.com.