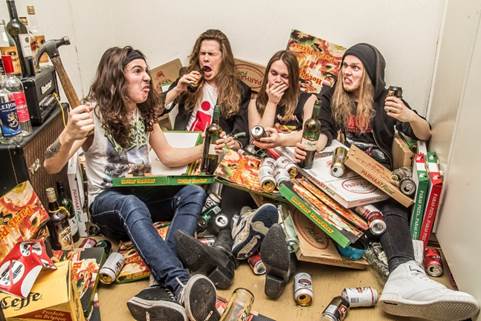 ROOTS Revisits the New Wasteland Warriors of Thrash Metal on SiriusXM
Week of March 11, 2017
Sat 3/11, 6PM ET
Sun 3/12, 1PM ET
Mon 3/13, 9AM ET
Tues 3/14, 4PM ET
Thurs 3/16, 9PM ET
Ten years after the first sparks of thrash metal's fiery 2000s-era rebirth, Roots revisits the savage leading edge of progress by post-nuclear pilgrims including Power Trip, Havok, Dust Bolt, Lost Society, Hellbringer, Vektor, Suicidal Angels, Ultra-Violence, and more. The thrash revival has now lasted longer than the original thrash metal era, and the day of reckoning has arrived. Prepare for a total armageddon assault…on Roots!
Check the essential origins of thrash metal with hundreds of the earliest photos of Metallica, Slayer, Possessed, Testament, Megadeth, Exodus, Forbidden, Death Angel, and others in MURDER IN THE FRONT ROW: Shots From the Bay Area Thrash Metal Epicenter.
PLAYLIST:
POWER TRIP – "Nightmare Logic" from NIGHTMARE LOGIC
VREIDEHAMMER – "Violator" from VIOLATOR
LOST SOCIETY – "Hollow Eyes" from BRAINDEAD
ULTRA-VIOLENCE – "Lost in Decay" from DEFLECT THE FLOW
HELLBRINGER – "Realm of the Heretic" from AWAKENED FROM THE ABYSS
HAVOK – "Hang 'Em High" from CONFORMICIDE
SUICIDAL ANGELS – "Division of Blood" from DIVISION OF BLOOD
GOTSU TOTSU KOTSU – "Into the Jaws of Death" from WHERE WARRIORS ONCE DREAMED A DREAM
EXMORTUS – "For the Horde" from FOR THE HORDE
DUST BOLT – "Mass Confusion" from MASS CONFUSION
VEKTOR – "Charging the Void" from TERMINAL REDUX
ROOTS is Sound of the Beast author (and Bazillion Points publisher) Ian Christe's metal history show on Sirius XM Liquid Metal channel 40. Since June 2004, each weekly show examines another sound, subgenre, band, movement, region, happening, or milestone in metal, punk, and heavy rock. Current episodes are available on-demand online from SiriusXM.com.