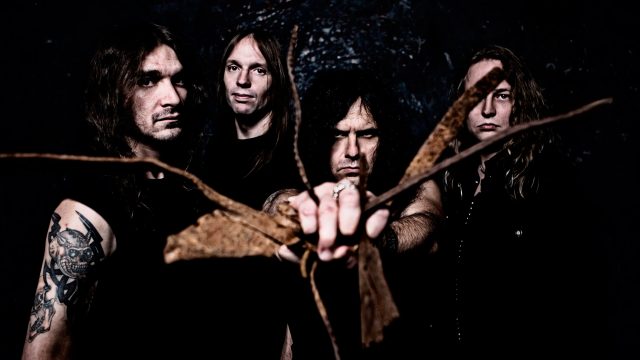 ROOTS OF GERMAN THRASH METAL
Week of March 25, 2017
Sat 3/25, 6PM ET
Sun 3/26, 1PM ET
Mon 3/27, 9AM ET
Tues 3/28, 4PM ET
Thurs 3/30, 9PM ET
This week the well-traveled boots of ROOTS return to the historical heavy metal hotbed of Germany for an unleashed lesson in unbridled German thrash metal. Prepare for new and old tracks by the greats, including Kreator, Accept, Destruction, and Sodom; plus lethal doses of Violent Force, Disaster, and Protector; and elevated insanity from Holy Moses, Paradox, and the unique Mekong Delta. Achtung—kenne deine wurzeln!
For further book-learning in the Germanic thrash metal arts, check out titles from Bazillion Points including METALION: The Slayer Mag Diaries, SWEDISH DEATH METAL, and SOUND OF THE BEAST.
PLAYLIST:
KREATOR – "Pleasure to Kill" from PLEASURE TO KILL
ACCEPT – "Fast As A Shark" from RESTLESS & WILD
RUNNING WILD – "Victim Of States Power" from GATES TO PURGATORY
VIOLENT FORCE – "Destructed Life" from MALEVOLENT ASSAULT OF TOMORROW
TANKARD – "Total Addiction" from CHEMICAL INVASION
DEATHROW – "Riders Of Doom" from RIDERS OF DOOM
DESTRUCTION – "Life Without Sense" from ETERNAL DEVASTATION
SODOM – "Ausgebombt" from AUSGEBOMBT
DESASTER – "Angel Extermination" from 666 SATAN'S SOLDIERS SYNDICATE
VENDETTA – "Brain Damage" from BRAIN DAMAGE
HOLY MOSES – "Panic" from THE NEW MACHINE OF LEICHTENSTEIN
PARADOX – "Search for Perfection" from HERESY
MEKONG DELTA – "Sphere Eclipse" from KALEIDOSCOPE
PROTECTOR – "Mortal Passion" from LEVIATHAN'S DESIRE
SODOM – "Rolling Thunder" from DECISION DAY
KREATOR – Totalitarian Terror" from GODS OF VIOLENCE
ROOTS is Sound of the Beast author (and Bazillion Points publisher) Ian Christe's metal history show on Sirius XM Liquid Metal channel 40. Since June 2004, each weekly show examines another sound, subgenre, band, movement, region, happening, or milestone in metal, punk, and heavy rock. Current episodes are available on-demand online from SiriusXM.com.