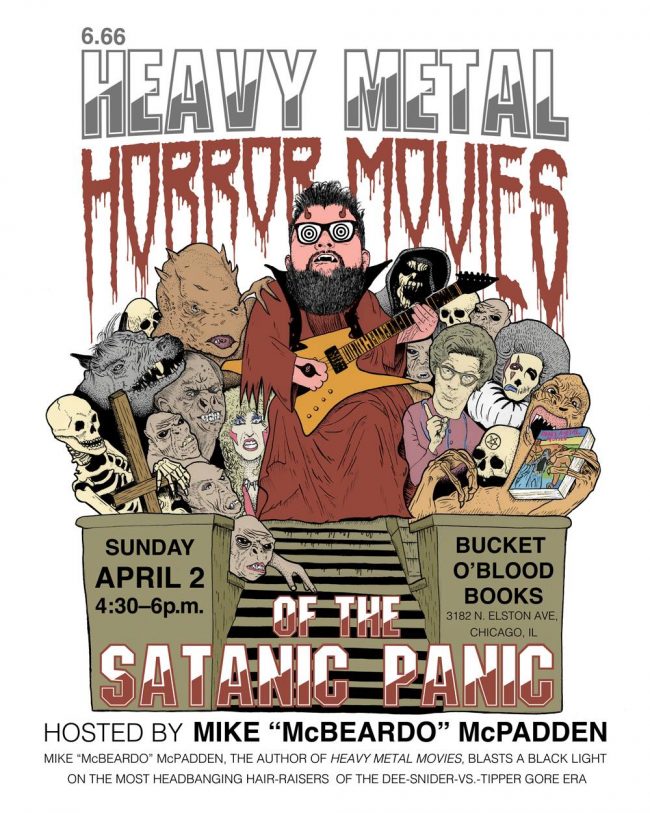 Join Bucket O' Blood Books and Records for Chicago's goriest monthly lecture series this Sunday, as Mike "McBeardo" McPadden blasts a black lite on the most headbanging hair-raisers of the PMRC era! The event is free, and BYOB is encouraged.
WHERE: Bucket O' Blood Books and Records, 3182 N Elston Ave, Chicago
WHEN: Sunday, April 2, from 4:30 PM to 6:00 PM
Heavy metal and horror cinema have been intertwined from the very moment of the music's unholy birth, when a UK psychedelic blues band called Earth renamed themselves after a Boris Karloff fright flick and thus became Black Sabbath.
Horror and heavy metal hit simultaneous definitive peaks the following decade. Metal supplanted punk in the underground and dominated MTV in the pop realm. Horror overtook multiplexes and VHS rentals alike with an onslaught of splatter-gore "slasher" epics that tickled teens and petrified parents.
At the same time, real-life atrocities such as those committed by horror-loving metal fans such as Richard "The Night Stalker" Ramirez and Ricky "Acid King" Kasso inflamed public hysteria into fearing a nationwide networks of child-sacrificing satanic cults, headbanging to ungodly noise.
Metal, horror, and satanic panic met, supernaturally, in the form of a cloven hoof-ful of heavy metal-themed horror films. Can you name them all?
Reap the rewards of Mike McPadden's lifelong search for horror and heavy metal with the enormous and monstrous HEAVY METAL MOVIES: Guitar Barbarians, Mutant Bimbos & Cult Zombies Amok in the 666 Most Ear- and Eye-Ripping Big-Scream Films Ever!
https://www.bazillionpoints.com/shop/heavy-metal-movies-by-mike-mcbeardo-mcpadden/