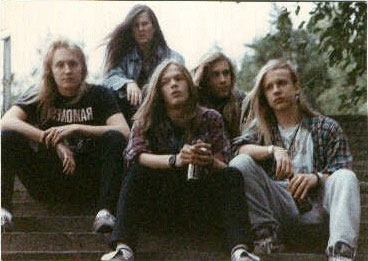 ROOTS OF FINNISH DEATH METAL
Week of April 22, 2017
Sat 4/22, 6PM ET
Sun 4/23, 1PM ET
Mon 4/24, 9AM ET
Tues 4/25, 4PM ET
Thurs 4/27, 9PM ET
Though overshadowed by Swedish death metal and Norwegian black metal, Finland's intense and long-running extreme music scene is massively admired for its deep, dark, and imaginative fervor. Engage the eternal madness this week with tracks by Demilich, Sentenced, Xysma, Amorphis, Krypts, Convulse, Torture Killer (feat. Chris Barnes) and more. Know your perkele Roots!
For many clues to the early Finnish scene, check out METALION: The Slayer Mag Diaries.
PLAYLIST:
DEMILICH – "The Sixteenth Six-Tooth Son of Fourteen Four-Region" from NESPITHE
AMORPHIS – "Black Embrace" from THE KARELIAN ISTHMUS
SENTENCED – "Rotting Ways to Misery" from SHADOWS OF THE PAST
ABHORRENCE – "Disintegration of Flesh" from ABHORRENCE
CONVULSE – "The Rite of Sunshine" from REFLECTIONS
XYSMA – "Above the Horizon" from YEAH
KRYPTS – "Open the Krypt" from UNENDING DEGRADATION
DEMIGOD – "Slumber of Sullen Eyes" from SLUMBER OF SULLEN EYES
TO SEPERATE THE FLESH FROM THE BONES – "Final Extinction" from UTOPIA SADISTICA
IMPALED NAZARENE – "Enlightenment Process" from ROAD TO THE OCTAGON
ROTTEN SOUND – "Dead Remains" from NAPALM
DEATHCHAIN – "Seven Asakku Shadows" from RITUAL DEATH METAL
TORTURE KILLER – "Forever Dead" from SWARM!
Roots is Sound of the Beast author Ian Christe's heavy metal history show on Sirius XM Liquid Metal channel 40. Since June 2004, each weekly show has examined another subgenre, band, movement, country, or theme. The show is available on-demand online from SiriusXM.com.