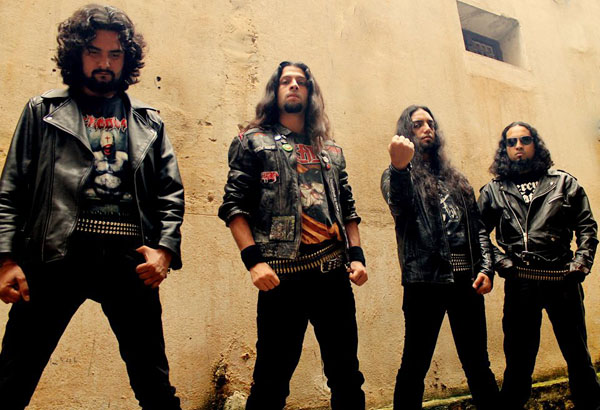 ROOTS OF INDIAN METAL
Week of May 6, 2017
Sat 5/6, 6PM ET
Sun 5/7, 1PM ET
Mon 5/8, 9AM ET
Tues 5/9, 4PM ET
Thurs 5/11, 9PM ET
India, the second-most populated nation in the world, has seen its homegrown metal scene explode following massive appearances in the past ten years by Iron Maiden, Metallica, Carcass, Lamb of God, and others. Today's metal history lesson captures the current state of the Indian metal revolution with fiery tracks by Devoid, Plague Throat, Kryptos (picture), Zygnema, pioneers Demonic Resurrection, Undying Inc., Mortar, Orator, and many more. For a billion headbangers across the seas, the metal story has just begun. Know your Roots!
Explore the vast vaults of metal history with first-hand accounts of the rise of metal worldwide, from Birmingham to San Francisco to Stockholm to Norway, from Bazillion Points Books.
PLAYLIST
ORATOR – "First Born Of Sataninsam" from KAPALGNOSIS
DEVOID – "Brahma Weapon" from THE INVASION
PLAGUE THROAT – "Inherited Failure" from THE HUMAN PARADOX
MORTAR – "Ground Reality" from GROUND REALITY
BHAYANAK MAUT – "Ranti Nasha" from BHAYANAK MAUT
KRYPTOS – "Blackstar Horizon" from BURN THE HORIZON
ZYGNEMA – "Reform, Rebirth" from WHAT MAKES US HUMAN IS OBSOLETE
DHWESHA – "Sattva Bali" from STHOOPA
MOKSH – "Shiv Tandav Stotram" from PROMO 2017
DEMONIC RESURRECTION – "Matsya – The Fish" from DASHAVATAR
UNDYING INC. – "Ironclad" from IRONCLAD EP
Roots is Sound of the Beast author Ian Christe's heavy metal history show on Sirius XM Liquid Metal channel 40. Since June 2004, each weekly show has examined another subgenre, band, movement, country, or theme. The show is available on-demand online from SiriusXM.com.