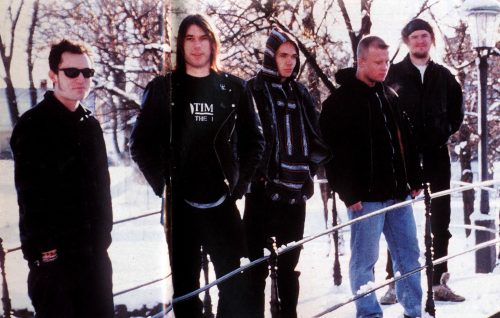 ROOTS OF EDGE OF SANITY'S CRIMSON
Week of June 3, 2017
Sat 6/3, 6PM ET
Sun 6/4, 1PM ET
Mon 6/5, 9AM ET
Tues 6/6, 4PM ET
Thurs 6/8, 9PM ET
Emerging in 1996 as Swedish death metal reached maturity, Edge of Sanity's fifth studio album Crimson broke through the Earth's crust with a single 40-minute death metal suite that stood like a towering mountain of endlessly flowing riffs and diverse sections. Led by prolific main man Dan Swanö (Katatonia, Bloodbath, Nightingale; engineer for Pain, Opeth, Dissection), the quintet was joined by Opeth's Mikael Åkerfeldt on vocals and lead guitar, sketching an extreme progressive path that soon became Opeth's calling card. Two decades later, your weekly metal history lesson returns Crimson to the spotlight for a new look. Know your Roots!
Sound like time to read SWEDISH DEATH METAL by Daniel Ekeroth!
PLAYLIST:
EDGE OF SANITY – "Of Darksome Origin" from PURGATORY AFTERGLOW
EDGE OF SANITY – "Crimson" from CRIMSON
EDGE OF SANITY – "Murder. Divided." from CRIMSON
Roots is Sound of the Beast author and Bazillion Points publisher Ian Christe's heavy metal history show on Sirius XM Liquid Metal channel 40. Launched in June 2004, each weekly show has examined another subgenre, band, movement, country, or theme in metal, punk, and heavy rock. Past episodes are available on-demand online from SiriusXM.com.