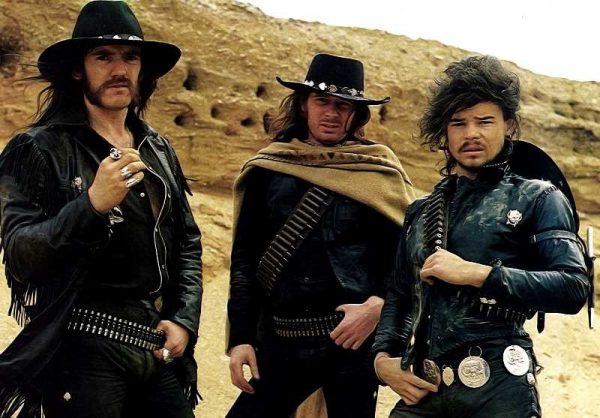 ROOTS OF MOTÖRHEAD WORSHIP
Week of June 10, 2017
Sat 6/10, 6PM ET
Sun 6/11, 1PM ET
Mon 6/12, 9AM ET
Tues 6/13, 4PM ET
Thurs 6/15, 9PM ET
In praise of the dirty purists worshiping entirely at the altar of Motörhead, this week's metal history lesson rides hard and sweaty in bullet belts and black leather with Bulldozer, Sodom, Disfear, Midnight, Inepsy, Iron Bastards, Tank, Girlschool, Superchrist, Gehennah, and more. Know your Roots…and don't let the bastards grind you down!
Grab a bottle of whiskey and read SOUND OF THE BEAST by Ian Christe.
PLAYLIST
DISFEAR – "Deadweight" from LIVE THE STORM
GIRLSCHOOL – "C'mon Lets Go" from HIT AND RUN
ROGUE MALE – "Crazy Motorcycle" from FIRST VISIT
TANK – "Laughing In The Face Of Death" from THIS MEANS WAR
VULCAIN – "Rock n Roll Secours" from ROCK 'N ROLL SECOURS
BULLDOZER – "Fallen Angel" from THE DAY OF WRATH
SODOM – "Ausgebombt" from AGENT ORANGE
IRON BASTARDS – "Vintage Riders" from FAST & DANGEROUS
INEPSY – "City Weapons" from CITY WEAPONS
GENOCIDE SUPERSTARS – "Like Roadkill" from III
GEHENNAH – "Decibel Rebel" from DECIBEL REBEL
GUNSLINGER – "Going In For The Kill" from EARTHQUAKE IN E MINOR
ZADKIEL – "Miss Satan" from DISCOGRAPHY
TERRORWHEEL – "Tear This Nation Down" from RHYTHM 'N MURDER
SUPERCHRIST – "Still Not Drunk Enough" from DEFENDERS OF THE FILTH
MIDNIGHT – "Black Rock 'n' Roll" from FAREWELL TO HELL
MOTÖRHEAD – "Snaggletooth" from NO REMORSE
Roots is Sound of the Beast author and Bazillion Points publisher Ian Christe's heavy metal history show on Sirius XM Liquid Metal channel 40. Launched in June 2004, each weekly show has examined another subgenre, band, movement, country, or theme in metal, punk, and heavy rock. Past episodes are available on-demand online from SiriusXM.com.