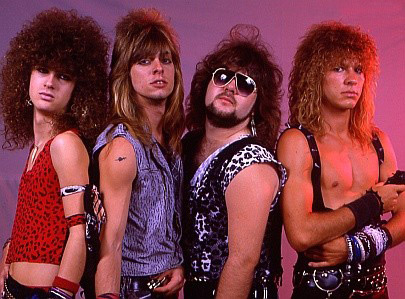 ROOTS OF EARLY PANTERA
Week of August 19, 2017
Sat 8/19, 6PM ET
Sun 8/20, 1PM ET
Mon 8/21, 9AM ET
Tues 8/22, 4PM ET
Thurs 8/24, 9PM ET
This week's metal history lesson road trips to the Lone Star State for a wild tour of the early years of 1990s metal banner-wavers Pantera. Over the course of four self-released albums during the 1980s, Pantera combined the best of glam and classic heavy metal with flashy lead guitar an ample pour of their Texas upbringing. Music from Pantera's fist-pumping first four albums meets tracks by Pantera papa Jerry Abbott, Ozzy Osbourne, Metallica, Bugs Henderson, Rotting Corpse, Phil Anselmo's 1980s band Razor White, and former Pantera singer Terry Glaze's band Lord Tracy. Celebrate the life of Dimebag Darrell, getcha pull, and know your Roots!
Read up on metal's dramatic shift between the 1980s and 1990s in SOUND OF THE BEAST: The Complete Headbanging History of Heavy Metal, by Ian Christe.
PLAYLIST:
PANTERA – "Heavy Metal Rules" from PROJECTS IN THE JUNGLE
JERRY ABBOTT – "I Want a Little Cowboy" from 1978 7″
PANTERA – "Metal Magic" from METAL MAGIC
OZZY OSBOURNE – "I Don't Know" from TRIBUTE
METALLICA – "Seek and Destroy" from JUMP IN THE FIRE EP
BUGS HENDERSON – "Baby Ruth" from STILL FLYIN'
DIAMOND DARRELL – "Guitar Solo 1984" from LIVE
PANTERA – "I Am the Night" from I AM THE NIGHT
RAZOR WHITE (POST—ANSELMO) "Never Cry Wolf" from 1987 DEMO
LORD TRACY (w/TERRY GLAZE) – "Piranha" from DEAF GODS OF BABYLON
ROTTING CORPSE – "Rotting Corpse" from DEMO
PANTERA – "Power Metal" from POWER METAL
Roots is Sound of the Beast author (and Bazillion Points publisher) Ian Christe's heavy metal history show on Sirius XM Liquid Metal channel 40. Since June 2004, each weekly show has examined another subgenre, band, movement, country, or theme in metal, punk, and heavy rock. The show is available on-demand online from SiriusXM.com.