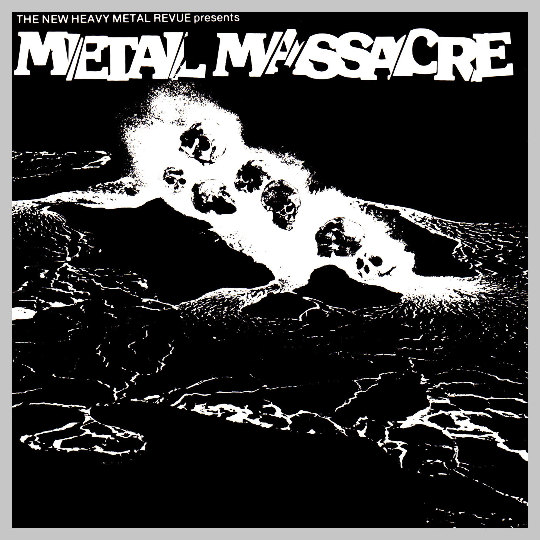 Roots of the Metal Blade Records Metal Massacre Compilation Series
Week of August 26, 2017
Sat 8/26, 6PM ET
Sun 8/27, 1PM ET
Mon 8/28, 9AM ET
Tues 8/29, 4PM ET
Thurs 8/31, 9PM ET
In honor of the 35th anniversary of Metal Massacre and the birth of Metal Blade Records, we deliver into the highly influential, long-running Metal Massacre compilation series. Featured are a dozen of the many bands first exposed to the world via their Metal Massacre appearances, including Metallica, Slayer, Voivod, Armored Saint, Possessed, Metal Church, Flotsam & Jetsam, and many others. Know your Roots!
Plunge deeper into the stories of Metal Blade Records, the Metal Massacre series, and the bands featured there in the book SOUND OF THE BEAST: The Complete Headbanging History of Heavy Metal, by Ian Christe.
PLAYLIST:
METALLICA – "Hit The Lights (Second Version)" from METAL MASSACRE
ARMORED SAINT – "Lesson Well Learned" from METAL MASSACRE II
SLAYER – "Aggressive Perfector" from METAL MASSACRE III
METAL CHURCH – "The Brave" from METAL MASSACRE V
VOIVOD – "Condemned to the Gallows" from METAL MASSACRE V
POSSESSED – "Swing of the Axe" from METAL MASSACRE VI
FLOTSAM & JETSAM – "I Live, You Die" from METAL MASSACRE VII
CRYPTIC SLAUGHTER – "Reich of Torture" from METAL MASSACRE VII
SLAUGHTER – "Fourth Dimension" from METAL MASSACRE TEN
CONFESSOR – "The Secret" from METAL MASSACRE TEN
OVERCAST – "Two Degrees Below" from METAL MASSACRE XII
CRYPT SERMON – "The Will of the Ancient Call" from METAL MASSACRE 14
Roots is Sound of the Beast author (and Bazillion Points publisher) Ian Christe's heavy metal history show on Sirius XM Liquid Metal channel 40. Since June 2004, each weekly show has examined another subgenre, band, movement, country, or theme in metal, punk, and heavy rock. The show is available on-demand online from SiriusXM.com.