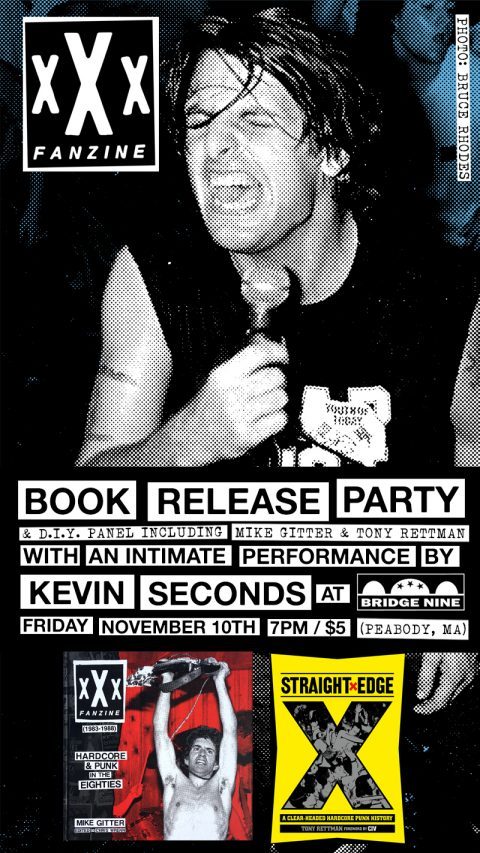 Join Tony Rettman, author of the acclaimed NYHC: New York Hardcore, 1980-1990, as he discusses his headstrong new book, Straight Edge: A Clear-Headed Hardcore Punk History. Tony will be joined in unity by Mike Gitter, author of the new anthology xXx Fanzine (1983-1988): Hardcore & Punk in the Eighties, and others. Veteran positive force Kevin Seconds of 7 Seconds will performing an intimate set of songs.
WHEN: Friday, November 10, 7 PM // $5
WHERE: Bridge Nine, 119R Foster St., Building 4, Floor 3, Peabody, Mass.
Bridge Nine is also producing a limited 12″ x 18″ poster for the night. Please help out the event by sharing and letting the kids know!
"Fxcking loved it!!! A great book. Tony Rettman did it once again."—Mike Ferraro, Judge
TONY RETTMAN is the author of NYHC: New York Hardcore 1980–1990 and Why Be Something That You're Not: Detroit Hardcore 1979–1985. He has provided liner notes for releases by the Circle Jerks, Warzone, the Crumbsuckers, and Beyond, and he hosted the Green Room Radio podcast.
Check out Bridge Nine for further details:
And be sure to preorder STRAIGHT EDGE by Tony Rettman, shipping any day now from Bazillion Points with a free molded metal badge.
Straight Edge: A Clear-Headed Hardcore Punk History
But you're stuck in New York and can't get to Boston? Carve a path to the STRAIGHT EDGE launch party at the Sonos Soho store on Thursday, Nov. 9. Details RIGHT HERE.