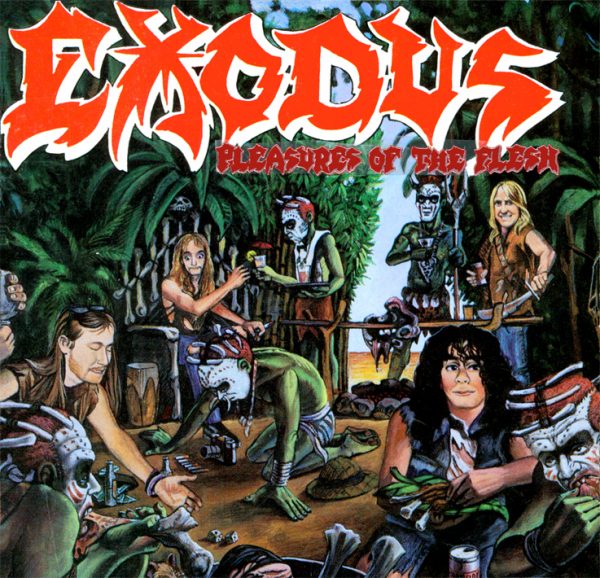 BLOODY ROOTS HOLIDAY SALUTE GUT-CHURNING CANNIBAL METAL
Week of October 21, 2017
Sat 10/21, 6PM ET
Sun 10/22, 1PM ET
Mon 10/23, 9AM ET
Tues 10/24, 4PM ET
Thurs 10/26, 9PM ET
The few, the depraved, the cannibals! Your weekly metal history show savors the flavor of Halloween this year with a journey into the dark heart and stomach of cannibalism in heavy metal. Choice cuts by Bone Gnawer, Entombed, Repulsion, Carcass, Slayer, Death, Cannibal Corpse, Heaven & Hell, and others light the depraved path towards the forbidden table. Bone appetite, and know your roots!
Plunder the treasures of shock and horror cinema this month with your own handy guide to cannibals, zombies, headbangers, aliens, and slashers on film: HEAVY METAL MOVIES, by Mike "McBeardo" McPadden.
PLAYLIST:
BONE GNAWER – "Modern Day Cannibal" from CANNIBAL CREMATORIUM
ENTOMBED – "Revel in Flesh" from LEFT HAND PATH
EXODUS – "Pleasures of the Flesh" from ANOTHER LESSON IN VIOLENCE
REPULSION – "Eaten Alive" from HORRIFIED
IMPETIGO – "Cannibal Lust" from HORROR OF THE ZOMBIES
CARCASS – "Pyosisified (Still Rotten to the Gore)" from TOOLS OF THE TRADE EP
SLAYER – "Piece by Piece" from REIGN IN BLOOD
DEATH – "Primitive Ways" from LEPROSY
CANNIBAL CORPSE – "Bloody Chunks" from EATEN BACK TO LIFE
MORTICIAN – "Hacked Up for Barbecue" from HACKED UP FOR BARBECUE
NECROPHAGIA – "Blood Freak" from HOLOCAUSTO DE LA MORTE
BLOODBATH – "Eaten" from BLOODBATH OVER BLOODSTOCK
GHOUL – "The Midnight Ride of the Cannibals MC" from HANG TEN
HEAVEN & HELL – "Eating the Cannibals" from THE DEVIL YOU KNOW
ROOTS is Sound of the Beast author (and Bazillion Points publisher) Ian Christe's metal history show on Sirius XM Liquid Metal channel 40. Since June 2004, each weekly show examines another sound, subgenre, band, movement, region, happening, or milestone in metal, punk, and heavy rock. Current episodes are available on-demand online from SiriusXM.com.