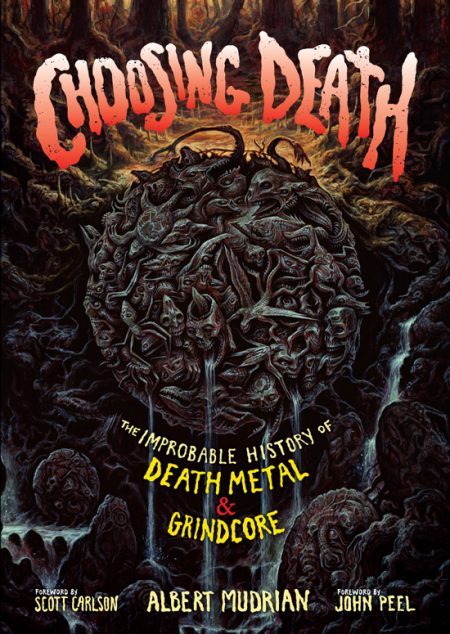 ROOTS WELCOMES CHOOSING DEATH AUTHOR ALBERT MUDRIAN
Week of November 25, 2017
Sat 11/25, 6PM ET
Sun 11/26, 1PM ET
Mon 11/27, 9AM ET
Tues 11/28, 4PM ET
Thurs 11/30, 9PM ET
Join host Ian Christe ("Sound of the Beast") and guest Albert Mudrian ("Choosing Death", Decibel magazine) for an overview of the birth, explosion, and legacy of death metal and grindcore. Tracks by Morbid Angel, Obituary, Carcass, Repulsion, Siege, Napalm Death, Suffocation, Pig Destroyer, At the Gates, and more. Know your deathly roots!
Read Decibel Magazine editor Albert Mudrian's essential CHOOSING DEATH: The Improbable History of Grindcore and Death Metal, shipping now with a limited free woven battlevest patch featuring Dan Seagrave's cover artwork.
PLAYLIST:
NAPALM DEATH – "Scum" from SCUM
SIEGE – "Walls" from DROP DEAD
REPULSION – "Maggots In Your Coffin" from HORRIFIED
MORBID ANGEL – "Chapel Of Ghouls" from ALTARS OF MADNESS
OBITUARY – "Slowly We Rot" from SLOWLY WE ROT
NIHILIST – "Severe Burns" from DROWNED DEMO
CANNIBAL CORPSE – "Hammer Smashed Face" from TOMB OF THE MUTILATED
DEATH "Symbolic" from SYMBOLIC
CARCASS – "Heartwork" from HEARTWORK
OPETH – "Demon Of The Fall" from MY ARMS YOUR HEARSE
SUFFOCATION – "Demise of the Clone" from SOULS TO DENY
PIG DESTROYER – "Naked Trees" from PROWLER IN THE YARD
AT THE GATES – "The Night Eternal" from AT WAR WITH REALITY
Bloody Roots is Sound of the Beast author (and Bazillion Points publisher) Ian Christe's heavy metal history show on Sirius XM Liquid Metal channel 40. Since June 2004, hundreds of weekly shows have examined the many subgenres, bands, movements, regions, and themes that make up the metal, punk, and heavy rock universes. The show is also available on-demand from SiriusXM.com.