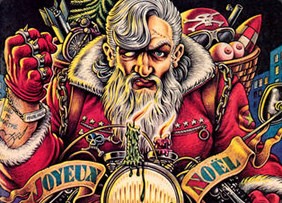 A BLOODY ROOTS HELLISH HEAVY METAL HOLIDAY WEEK SPECIAL
Week of December 16, 2017
Sat 12/16, 6PM ET
Sun 12/17, 1PM ET
Mon 12/18, 9AM ET
Tues 12/19, 4PM ET
Thurs 12/20, 9PM ET
Your weekly metal history lesson celebrates the end of a long, tumultuous year, with raucous holiday cheers and sneers from Halford, Lemmy, King Diamond, 220 Volt, Tankard, Melvins, Venom, Harley's War, Tom Angelripper, Hanoi Rocks, Gods of Fire, and more! Ho ho ho your Roots!
Thanks for your ongoing support and participation in Roots. Now wrap up 2017 with your heavy metal reading wishlist at BAZILLION POINTS. Beast wishes! 
PLAYLIST:
220 VOLT – "Heavy Christmas" from POWER GAMES
KING DIAMOND – "No Presents For Christmas" from ABIGAIL IN CONCERT 1987
LEMMY BILLY GIBBONS DAVE GROHL – "Run Run Rudolph" from METAL XMAS
TRANS SIBERIAN ORCHESTRA – "Carol of the Bells" from CHRISTMAS EVE AND OTHER STORIES
NEKROGOBLIKON – "Goblin Christmas Armageddon Part I" from GOBLIN ISLAND
HANOI ROCKS – "Dead By X-mas" from LOST IN THE CITY
HALFORD – "O Holy Night" from HALFORD III: WINTER SONGS
X-MAS PROJECT – "Stille Nacht, Heilige Nacht" from X-MAS PROJECT
DORO AND TOM ANGELRIPPER – "Merry Metal X-Mas" from MERRY METAL XMAS
MELVINS – "Black Santa" from THE BOOTLICKER
VENOM – "Black Christmas" from METALPUNK
BLACK BREATH – "Christmas In Hell" from DEMO 2006
BIG TOE – "All He Wants for Xmas Is Your Two Front Teeth" from XMAS FXCKING BRUTAL
CRYPT OF KERBEROS – "Yule Horror" from THE MACRODEX OF WAR
HARLEY'S WAR – "NYHC XMAS" from CRO MAG
GODS OF FIRE – "Eight Days of Victory" from HANUKKAH GONE METAL
BLACK LABEL SOCIETY – "The First Noel" from THE SONG REMAINS NOT THE SAME
TANKARD – "Fuck Christmas" from THE TANKARD
Roots is Sound of the Beast author and Bazillion Points publisher Ian Christe's heavy metal history show on Sirius XM Liquid Metal channel 40. Launched in June 2004, each weekly show has examined another subgenre, band, movement, country, or theme in metal, punk, and heavy rock. Past episodes are available on-demand online from SiriusXM.com.