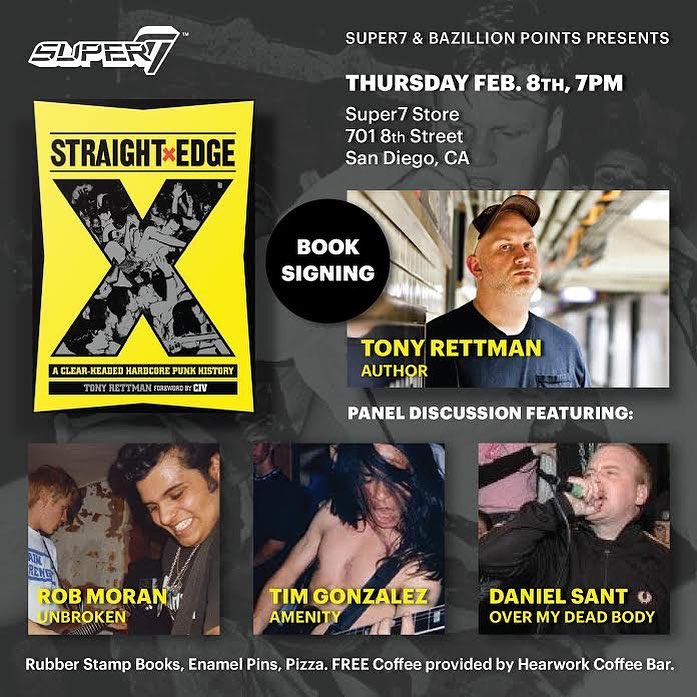 This Thursday, Feb. 8, at the Super7 Store on 701 8th Street in San Diego, STRAIGHT EDGE author Tony Rettman arrives to sign books, take names, and talk hardcore punk with Rob Moran of Unbroken, Tim Gonzalez of Amenity, and Daniel Saint of Over My Dead Body. Of course an event such as this demands free drinks, and neighbors Heartwork Coffee Bar will step up with enough vats of the strong stuff to keep the pit swirling for days.
The West Coast slam continues through this weekend in Los Angeles, with a very loud book signing at Top Space (8630 San Pedro St., L.A.) featuring sets by Freedom, Unified Right, and Free. Rettman will also have copies of his previous book, NYHC: New York Hardcore 1980–1990, ready to rip.
Sunday at Vacation Vinyl (4166 Santa Monica Blvd.), the week's festivities come to a head with a book signing and panel discussion featuring Rettman, Jon Roa of Justice League, Dan O'Mahony of No for an Answer, Jon Anastas of DYS and Slapshot, and moderator Carlos Ramirez of No Echo.
Whether you wear an X on your hand or an XXX on your moonshine jug, come out and support and enjoy almost four decades of DIY rebellion.
STRAIGHT EDGE: A Clear-Headed Hardcore Punk History, by Tony Rettman