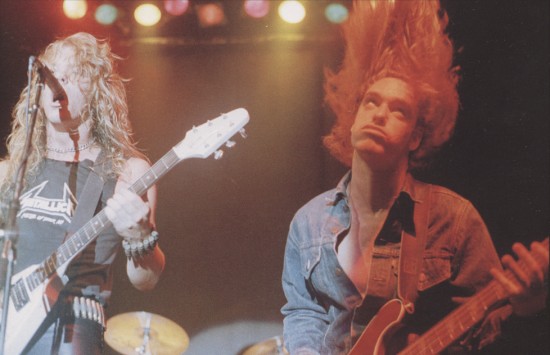 photo: James Hetfield and Cliff Burton, Keystone Palo Alto, Sept. 1, 1983, by Harald Oimoen from MURDER IN THE FRONT ROW.
CLIFF BURTON DAY: ROOTS OF METALLICA'S DEMO TAPE DAYS 1981-1983 on SIRIUSXM
Week of January 10, 2018
Sat 1/10, 6PM ET
Sun 1/11, 1PM ET
Mon 1/12, 9PM ET
Tues 1/13, 4PM ET
Thurs 1/15, 9PM ET
As Castro Valley, California, honors its native major bass rager with an official Cliff Burton Day on his birthdate, February 10, Roots unravels an hour of cassette tape trader treasures from the very dawn of Metallica. The band's earliest recorded tracks are joined by music from Cliff's previous band, Trauma; plus peers Exodus (with Kirk Hammett); and early demos by fellow "Big 4" thrash metal bands Megadeth, Slayer, and Anthrax. Happy Cliff Burton Day—know your Roots!
See Cliff Burton in action in scores of photos from his first Metallica rehearsal through the band's triumphant Day on the Green performance in 1985 in the hefty early thrash metal photo book MURDER IN THE FRONT ROW: Shots From the Bay Area Thrash Metal Epicenter.
PLAYLIST:
METALLICA – "Hit The Lights (1st)" from METAL MASSACRE
METALLICA – "Let It Loose" from RON MCGOVNEY'S 1982 GARAGE DEMO
DIAMOND HEAD – "Am I Evil?" from LIGHTNING TO THE NATIONS
METALLICA – "Jump in the Fire" from NO LIFE 'TIL LEATHER
EXODUS – "Whipping Queen" from 1982 DEMO
EXODUS – "Dying by His Hand" from LIVE 1983
TRAUMA – "Such a Shame" from METAL MASSACRE II
CLIFF BURTON – "Bass Solo I" from LIVE
CLIFF BURTON – "Bass Solo II" from Live
SLAYER – "Black Magic" from 1983 DEMO
ANTHRAX – "Pestilence" from 1982 DEMO
MEGADETH – "Mechanix" from 1984 DEMO
METALLICA – "No Remorse" from KILL 'EM ALL
Roots is Sound of the Beast author and Bazillion Points publisher Ian Christe's heavy metal history show on Sirius XM Liquid Metal ch. 40. Launched in June 2004, each weekly show examines another subgenre, band, movement, country, or theme in metal, punk, and heavy rock. Past episodes are available on-demand online from SiriusXM.com.