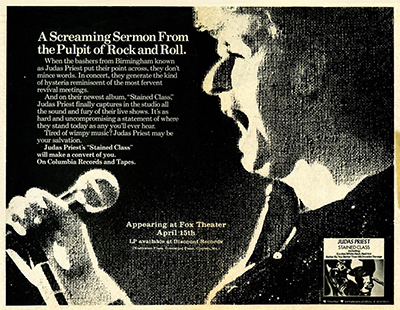 ROOTS OF FORTY YEARS OF JUDAS PRIEST'S CUTTING-EDGE STAINED CLASS
Sat 2/17, 6PM ET
Sun 2/18, 1PM ET
Mon 2/19, 9AM ET
Tues 2/20, 4PM ET
Thurs 2/22, 9PM ET
Marking the 40th anniversary of Judas Priest's cutting-edge, ultra-modern Stained Class LP, this week's metal history lesson goes track by track with album tracks, original versions, live music, and interpretations by Fates Warning, Halford, Strapping Young Lad, Holy Grail, and others. Showcasing otherworldly vocals, precise harmonized guitars, and unprecedented speed, we honor Rob Halford, KK Downing, Ian Hill, Les Binks, and especially Glenn Tipton for this pivotal record that left the hard rock era behind and made possible the heavy metal explosion of the 1980s. Know your Roots!
For a thorough course in five decades of heavy metal music, read SOUND OF THE BEAST: The Complete Headbanging History of Heavy Metal, by Ian Christe.
PLAYLIST:
STRAPPING YOUNG LAD – "Exciter"
HALFORD – "White Heat, Red Hot" from ANAHEIM
SPOOKY TOOTH – "Better By You, Better Than Me" from SPOOKY TWO
JUDAS PRIEST – "Stained Class" from STAINED CLASS
SAINT – "Invader" from CRIME SCENE EARTH
FATES WARNING – "Saints In Hell" from JUDAS PRIEST: LEGENDS OF METAL
JUDAS PRIEST – "Savage" from STAINED CLASS
JUDAS PRIEST – "Beyond The Realms Of Death" from UNRELEASED IN THE EAST
JUDAS PRIEST – "Heroes End" from STAINED CLASS
HOLY GRAIL – "Exciter" from IMPROPER BURIAL
ROOTS is Sound of the Beast author and Bazillion Points publisher Ian Christe's heavy metal history show on Sirius XM Liquid Metal ch. 40. Launched in June 2004, each weekly show examines another subgenre, band, movement, country, or theme in metal, punk, and heavy rock. Past episodes are available on-demand online from SiriusXM.com.