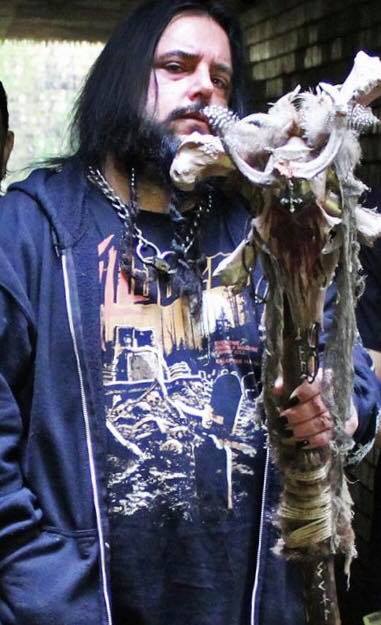 ROOTS OF DEATH METAL PIONEER FRANK "KILLJOY" PUCCI
Week of March 31, 2018
Sat 3/31, 6PM ET
Sun 4/1, 1PM ET
Mon 4/2, 9AM ET
Tues 4/3, 4PM ET
Thurs 4/5, 9PM ET
This week we mourn and mark a place in metal history for death metal pioneer Frank "Killjoy" Pucci of Necrophagia. Check out Necrophagia tracks spanning from the band's deathly 1987 debut through the recent White Worm Cathedral; side projects Wurdulak, the Ravenous, and Viking Crown with members of Immortal, Pantera, Nuclear Assault, and Autopsy; and Necrophagia tributes by Sigh and Incantation. Rest in death to master of dramatic horror-inspired intense metal! Know your Roots.
Devour the story of death metal in CHOOSING DEATH: The Improbable History of Death Metal and Grindcore, by Albert Mudrian.
PLAYLIST:
NECROPHAGIA – "And You Will Live in Terror" from BLACK BLOOD VOMITORIUM
NECROPHAGIA – "Mental Decay" from SEASON OF THE DEAD
KILLJOY – "Frozen Refuge" from COMPELLED BY FEAR
CABAL – "Midian" from MIDIAN
SIGH – "Young Burial" from NECROPHAGIA SPLIT
EIBON – "Mirror Soul Jesus" from MOONFOG 2000
NECROPHAGIA – "Excommunicated" from HARVEST RITUAL
WURDULAK – "Satanic Utopia" from CEREMONY IN FLAMES
THE RAVENOUS – "Apocalyptic Paranoia" from THREE ON A MEATHOOK
VIKING CROWN – "The Red Flames of Sin" from INNOCENCE FROM HELL
INCANTATION – "Abomination" from TRIBUTE TO THE GOAT
NECROPHAGIA – "Angel Blake" from WHITEWORM CATHEDRAL
ROOTS is Sound of the Beast author (and Bazillion Points publisher) Ian Christe's metal history show on Sirius XM Liquid Metal channel 40. Since June 2004, each weekly show examines another sound, subgenre, band, movement, region, happening, or milestone in metal, punk, and heavy rock. Current episodes are available on-demand online from SiriusXM.com.