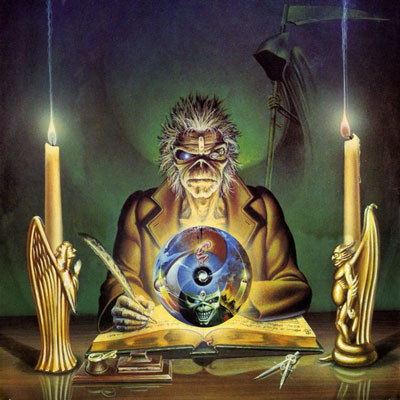 ROOTS SALUTES 30 YEARS OF IRON MAIDEN'S SEVENTH SON OF A SEVENTH SON
Week of April 14, 2018
Sat 4/14, 6PM ET
Sun 4/15, 1PM ET
Mon 4/16, 9AM ET
Tues 4/17, 4PM ET
Thurs 4/19, 9PM ET
On April 11, 1988, Iron Maiden fully unfurled its progressive, imaginative beast with the release of the band's influential and abstract seventh album, Seventh Son of a Seventh Son. Today we gaze into the impact zone of this loose concept album with a track-by-track reconstruction including B-sides, live material, album tracks, and tributes by Stormlord, After Forever, Waltari, Solstice, and more. Gaze into the oracle, and know your Roots!
Play with madness by reading SOUND OF THE BEAST: The Complete Headbanging History of Heavy Metal, by Ian Christe.
PLAYLIST:
IRON MAIDEN – "Prowler '88" from THE EVIL THAT MEN DO
STORMLORD – "Moonchild" from THE GORGON CULT
IRON MAIDEN – "Can I Play With Madness?" from A REAL LIVE DEAD ONE
WALTARI – "Infinite Dreams" from COVERS ALL
AFTER FOREVER – "The Evil That Men Do" from EXORDIUM
IRON MAIDEN – "Seventh Son of a Seventh Son" from SEVENTH SON OF A SEVENTH SON
SOLSTICE – "The Prophecy" from NEW DARK AGE
IRON MAIDEN – "The Clairvoyant" from LIVE AT THE NEC 1988
MAIDEN UNITED – "Only the Good Die Young" from ACROSS THE SEVENTH SEA
Roots is Sound of the Beast author and Bazillion Points publisher Ian Christe's heavy metal history show on Sirius XM Liquid Metal channel 40. Launched in June 2004, each weekly show has examined another subgenre, band, movement, country, or theme in metal, punk, and heavy rock. Past episodes are available on-demand online from SiriusXM.com.