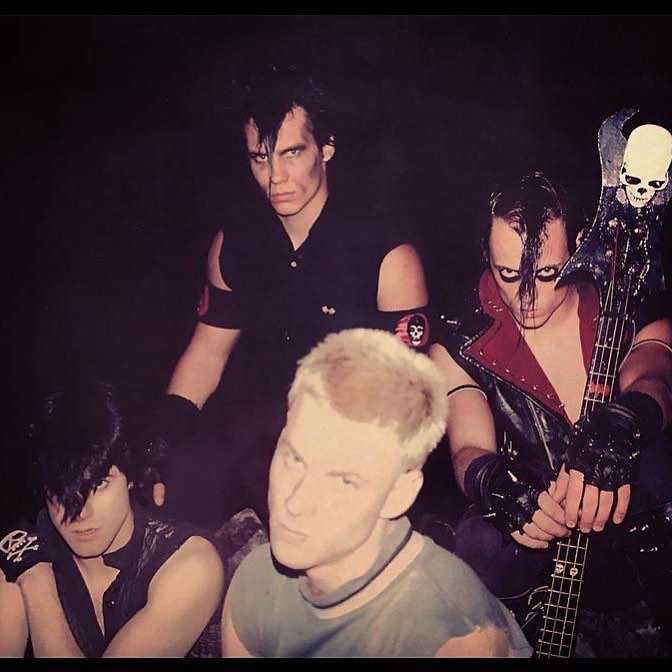 Roots of the Early Misfits Family of Bands on SiriusXM
Week of May 19, 2018
Sat 5/19, 6PM ET
Sun 5/20, 1PM ET
Mon 5/21, 9AM ET
Tues 5/22, 4PM ET
Thurs 5/23, 9PM ET
As the reunited original Misfits continue to storm concert arenas, Bloody Roots dives deep into the gory vaults of the DIY 1980s era of this legendary New Jersey horror hardcore gang. Prepare your spinal remains for hits from hell by the Misfits, plus subsequent bands Samhain and Danzig. Crushing Misfits covers by Marduk, Hatebreed, Tribulation, Prong, Enforcer, and Metallica display the stamp of the Crimson Ghost's influence on all things dark and heavy. Know your Roots!
Above photo by Eerie Von. Check out this shot and hundreds more Misfits, Samhain, and Danzig images in MISERY OBSCURA: The Photography of Eerie Von (1981–2009), now available AT THIS LOCATION.
PLAYLIST:
THE MISFITS – "20 Eyes" from WALK AMONG US
THE MISFITS – "Halloween" from BEWARE: THE COMPLETE SINGLES
THE MISFITS – "Where Eagles Dare" from LEGACY OF BRUTALITY
METALLICA – "Green Hell" from THE $5.98 EP
MARDUK – "Earth A.D." from OBEDIENCE
ENFORCER – "I Turned Into a Martian" from FROM BEYOND
HATEBREED – "Hatebreeders" from FOR THE LIONS
THE MISFITS AND HENRY ROLLINS – "We Are 138" from EVILIVE
SAMHAIN – "Diabolos 88 In My Grip" from NOVEMBER COMING FIRE
SAMHAIN – "The Howl" from INITIUM
SAMHAIN – "The Hungry End" from UNHOLY PASSION
SICK OF IT ALL – "All Hell Breaks Loose" from VIOLENT WORLD
TRIBULATION – "Devilock – Death Comes Ripping" from DECIBEL FLEXI SERIES
PRONG – "London Dungeon" from VIOLENT WORLD
SAMHAIN – "Twist of Cain" from FINAL DESCENT
DANZIG – "Bringer of Death" from DANZIG IV
DANZIG – "Long Way Back from Hell" from DANZIG II: LUCIFUGE
THE MISFITS – "Die, Die My Darling" from DIE DIE MY DARLING
Bloody Roots is Sound of the Beast author (and Bazillion Points publisher) Ian Christe's heavy metal history show on Sirius XM Liquid Metal channel 40. Since June 2004, each weekly show has examined another subgenre, band, movement, country, or theme in metal, punk, and heavy rock. The show is available on-demand online from SiriusXM.com.