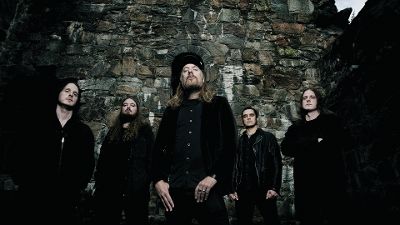 ROOTS REPLANTED: THE BEST OF RECENT METAL COMEBACKS
Week of May 26, 2018
Sat 5/26, 6PM ET
Sun 5/27, 1PM ET
Mon 5/28, 9AM ET
Tues 5/29, 4PM ET
Thurs 5/31, 9PM ET
This week's metal history lesson feeds from the fast-growing garden of resurrected legends currently sprouting from down to the deepest metal roots. We harvest the best of the crop since 2010, presenting bands that returned after at least a ten-year gap in studio recordings, sometimes delivering their best music yet. Highlights include Angel Witch, Carcass, Atheist, Autopsy, At the Gates, Sleep, Eyehategod, Arch/Matheos, and Black Sabbath. Know your Roots!
Brush up your brain and put together all the pieces of metal history by reading the book SOUND OF THE BEAST: The Complete Headbanging History of Heavy Metal.
PLAYLIST:
ANGEL WITCH – "Dead Sea Scrolls" from AS ABOVE, SO BELOW
SATAN – "Siege Mentality" from LIFE SENTENCE
SACRIFICE – "Ultimate Power Corrupts" from THE ONES I CONDEMN
DREAM DEATH – "Feast" from SOMNIUM EXCESSUM
AT THE GATES – "The Night Eternal" from AT WAR WITH REALITY
CARCASS – "The Granulating Dark Satanic Mills" from SURGICAL STEEL
ARCH / MATHEOS – "Stained Glass Sky" from SYMPATHETIC RESONANCE
GORGUTS – "Le Toit Du Monde" from COLORED SANDS
ATHEIST – "Fictitious Glide" from JUPITER
AUTOPSY – "Deliver Me From Sanity" from MACABRE ETERNAL
EYEHATEGOD – "Parish Motel Sickness" from EYEHATEGOD
SLEEP – "Marijuanaut's Theme" from THE SCIENCES
BLACK SABBATH – "Season Of The Dead" from THE END EP
Bloody Roots is Sound of the Beast author (and Bazillion Points publisher) Ian Christe's heavy metal history show on Sirius XM Liquid Metal channel 40. Since June 2004, each weekly show has examined another subgenre, band, movement, country, or theme in metal, punk, and heavy rock. The show is available on-demand online from SiriusXM.com.