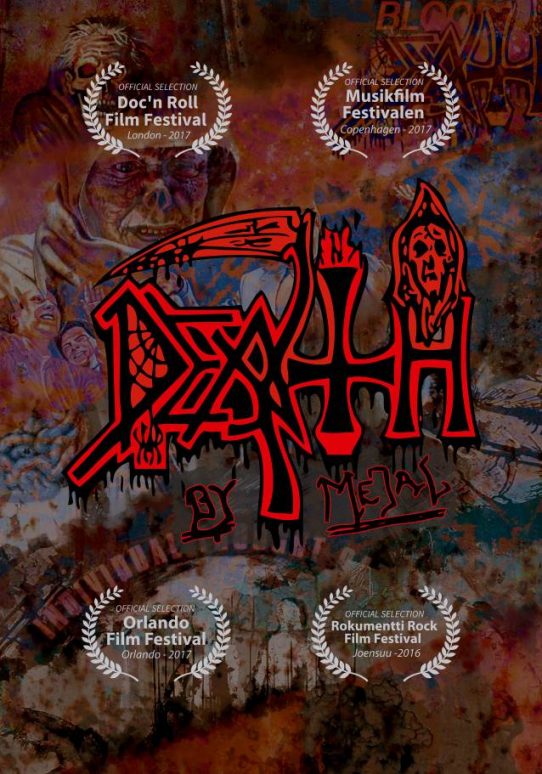 ROOTS Salutes Death by Metal—the Chuck Schuldiner Documentary—on SiriusXM
w/special guest Felipe Belalcazar
week of July 7, 2018
Sat 7/7, 6PM ET
Sun 7/8, 1PM ET
Mon 7/9, 9AM ET
Tues 7/10, 4PM ET
Thurs 7/12, 9PM ET
This week, host Ian Christe welcomes Felipe Belalcazar, director of the new documentary DEATH BY METAL, a loving look at the life and times of death metal icon Chuck Schuldiner and his bands Mantas, Death, and Control Denied. Belalcazar discusses the years he spent producing the film, working with family members and former bandmates such as Richard Christy and Gene Hoglan. A full array of death metal classics also feature, including tracks by Death, Mantas, Massacre, Autopsy, Gruesome, and Control Denied. Know your Roots!
Let the metal history flow with a lesson in the roots of Chuck Schuldiner and Mantas and Death by reading CHOOSING DEATH: The Improbable History of Death Metal and Grindcore, by Albert Mudrian.
PLAYLIST:
DEATH – "Born Dead" from LEPROSY
MANTAS – "Death by Metal" from DEMO 1984
DEATH – "Living Monstrosity" from SPIRITUAL HEALING
MASSACRE – "Cryptic Realms" from FROM BEYOND
AUTOPSY – "Severed Survival" from SEVERED SURVIVAL
DEATH – "Flattening of Emotions" from HUMAN
CONTROL DENIED – "Breaking the Broken" from THE FRAGILE ART OF EXISTENCE
GRUESOME – "Inhumane" from TWISTED PRAYERS
DEATH – "Crystal Mountain" from SYMBOLIC
Roots is Sound of the Beast author and Bazillion Points publisher Ian Christe's heavy metal history show on Sirius XM Liquid Metal channel 40. Launched in June 2004, each weekly show has examined another subgenre, band, movement, country, or theme in metal, punk, and heavy rock. Past episodes are available on-demand online from SiriusXM.com.