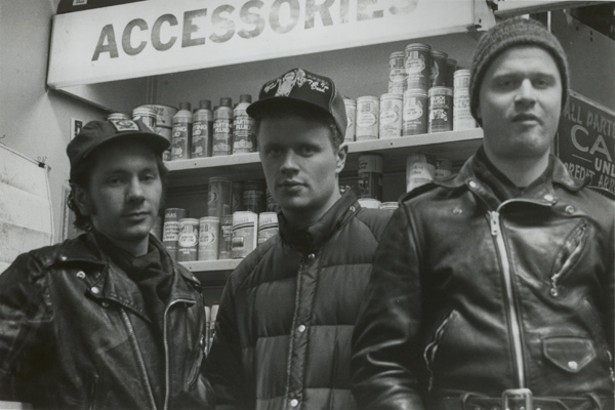 Roots of Heavy Noise Rock, on SiriusXM
Sat 8/11, 6PM ET
Sun 8/12, 1PM ET
Mon 8/13, 9AM ET
Tues 8/14, 4PM ET
Thurs 8/16, 9PM ET
This week's metal history show braves the poisonous air of heavy noise rock, a breed of rotten fruit fallen near the metal tree. Check out dissonant, angry originators Swans, Killdozer, and Melvins, plus aggressive offerings by Helmet, early Prong, Unsane, Today Is the Day, and Converge, leading up to current practitioners Ghold and Microwaves. Know your Roots!
Catch up on the abrasive rise of heavy noise rock with books like TOUCH AND GO and SUB POP USA from Bazillion Points Books.
PLAYLIST:
HELMET – "Born Annoying" from BORN ANNOYING 7″
UNSANE – "Vandal-X" from SUB POP SINGLE
RAPEMAN – "Steak and Black Onions" from TWO NUNS AND A PACK MULE
MELVINS – "Anaconda" from BULLHEAD
KILLDOZER – "Richard" from TWELVE-POINT BUCK
PRONG – "Look Up At The Sun" from FORCE FED
TODAY IS THE DAY – "The Descent" from SADNESS WILL PREVAIL
CONVERGE – "Trigger" from THE DUSK IN US
CHERUBS – "The Big Groovy" from HEROINMAN
PIG DESTROYER – "Terrifyer" from TERRIFYER
GHOLD – "Nothing Dreamt" from STOIC
MICROWAVES – "Via Weightlessness" from VIA WEIGHTLESSNESS
SWANS – "Oxygen (Edit)" from OXYGEN EP
Roots is Sound of the Beast author and Bazillion Points publisher Ian Christe's heavy metal history show on Sirius XM Liquid Metal channel 40. Launched in June 2004, each weekly show has examined another subgenre, band, movement, country, or theme in metal, punk, and heavy rock. Past episodes are available on-demand online from SiriusXM.com.