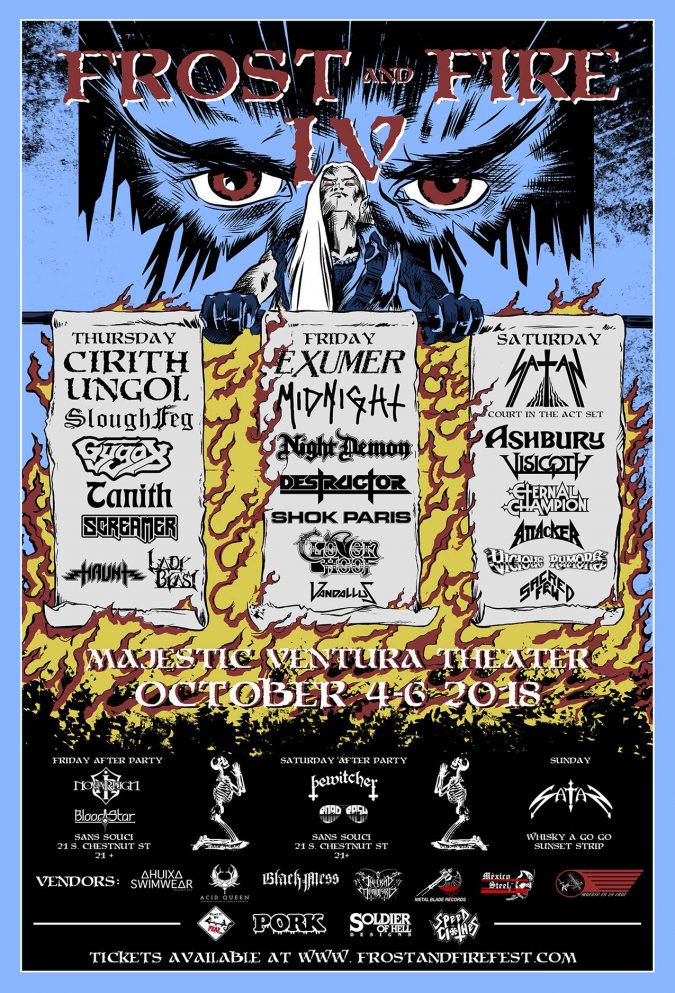 Roots Features the Heavy Metal Heroes of Frost and Fire Fest | on SiriusXM
w/guest Jarvis Leatherby of Night Demon
Week of September 15, 2018
Sat 9/15, 6PM ET
Sun 9/16, 1PM ET
Mon 9/17, 9AM ET
Tues 9/18, 4PM ET
Thurs 9/20, 9PM ET
Host Ian Christe welcomes Jarvis Leatherby of Night Demon (and the newly revamped Cirith Ungol) for a look inside the thriving world of traditional heavy metal today. Previewing the lineup of Leatherby's upcoming Frost and Fire Fest in Ventura, California, Roots charges into battle with legends Cirith Ungol, Satan, and Slough Feg, plus newcomers Visigoth, Eternal Champion, and Midnight. New live music by Night Demon rounds out the attack. Feel it burning, feel the freeze—know your Roots!
Fill your head with heavy metal thunder with SOUND OF THE BEAST: The Complete Headbanging History of Heavy Metal, by Ian Christe.
PLAYLIST:
NIGHT DEMON – "Heavy Metal Heat" from CURSE OF THE DAMNED
CIRITH UNGOL – "Frost and Fire" from FROST AND FIRE
SATAN – "Time to Die" from SUSPENDED SENTENCE
DESTRUCTOR – "Pounding Evil" from MAXIMUM DESTRUCTION
SLOUGH FEG – "Sky Chariots" from DOWN AMONG THE DEADMEN
VISIGOTH – "Outlive Them All" from CONQUEROR'S OATH
ETERNAL CHAMPION – "The Armor of Ire" from THE ARMOR OF IRE
HAUNT – "Burst Into Flame" from BURST INTO FLAME
MIDNIGHT – "Crushed by Demons" from SWEET DEATH AND ECSTASY
NIGHT DEMON – "Welcome to the Night" from LIVE DARKNESS
ATTACKER – "Call on the Attacker" from METAL MASSACRE V
Roots is Sound of the Beast author and Bazillion Points publisher Ian Christe's heavy metal history show on Sirius XM Liquid Metal channel 40. Launched in June 2004, each weekly show has examined another subgenre, band, movement, country, or theme in metal, punk, and heavy rock. Past episodes are available on-demand online from SiriusXM.com.