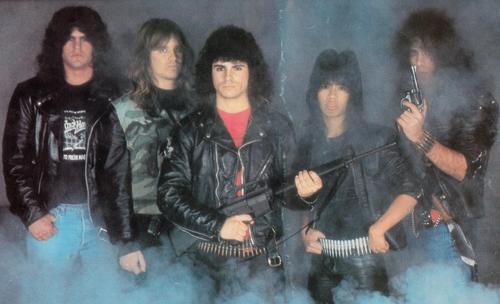 Roots of Classic L.A. Thrash Metal | on SiriusXM
Week of September 22, 2018
Sat 9/22, 6PM ET
Sun 9/23, 1PM ET
Mon 9/24, 9AM ET
Tues 9/25, 4PM ET
Thurs 9/27, 9PM ET
Though overpowered by the nearby San Francisco thrash metal explosion and eclipsed by the local Sunset Strip MTV glam metal phenomenon, Los Angeles gushed a gritty wave of influential and widely varied thrash metal acts during the early years of the style. Besides launching Slayer, Metallica, and Megadeth, the L.A. area was a caustic crucible for Detente, Agent Steel, Holy Terror, Evil Dead, Dark Angel, and Dr. Know —not to mention the Venice club of bands including Suicidal Tendencies, Excel, and No Mercy. Welcome to Hell-A., and know your Roots!
Check the earliest appearances of L.A. thrashers Slayer, Metallica, Megadeth, and Suicidal Tendencies as they ventured North to the fertile grounds of MURDER IN THE FRONT ROW: Shots From the Bay Area Thrash Metal Epicenter.
PLAYLIST:
AGENT STEEL – "Mad Locust Rising" from MAD LOCUST RISING EP
METALLICA – "Phantom Lord" from NO LIFE TIL LEATHER
SLAYER – "Captor of Sin" from LIVE UNDEAD
HIRAX – "Lightning Thunder" from HATE FEAR & POWER
MEGADETH – "Devil's Island" from PEACE SELLS BUT WHO'S BUYING?
DETENTE – "Holy War" from RECOGNIZE NO AUTHORITY
DR. KNOW – "Deprogram" from BURN EP
SUICIDAL TENDENCIES – "Cyco" from JOIN THE ARMY
EXCEL – "Insecurity" from PERSONAL ONSLAUGHT DEMO
NO MERCY – "We're Evil" from WIDESPREAD BLOODSHED
HOLY TERROR – "Evil's Rising" from TERROR & SUBMISSION
EVIL DEAD – "Parricide" from ANNIHILATION OF CIVILIZATION
MX MACHINE – "Psychotic Killing Machine" from MANIC PANIC
PHANTASM – "Blown to Oblivion" from THE WRECKAGE
CRYPTIC SLAUGHTER – "Sudden Death" from CONVICTED
DARK ANGEL – "The Promise of Agony" from LEAVE SCARS
TERRORIZER – "Fear of Napalm" from WORLD DOWNFALL
Roots is Sound of the Beast author and Bazillion Points publisher Ian Christe's heavy metal history show on Sirius XM Liquid Metal channel 40. Launched in June 2004, each weekly show has examined another subgenre, band, movement, country, or theme in metal, punk, and heavy rock. Past episodes are available on-demand online from SiriusXM.com.