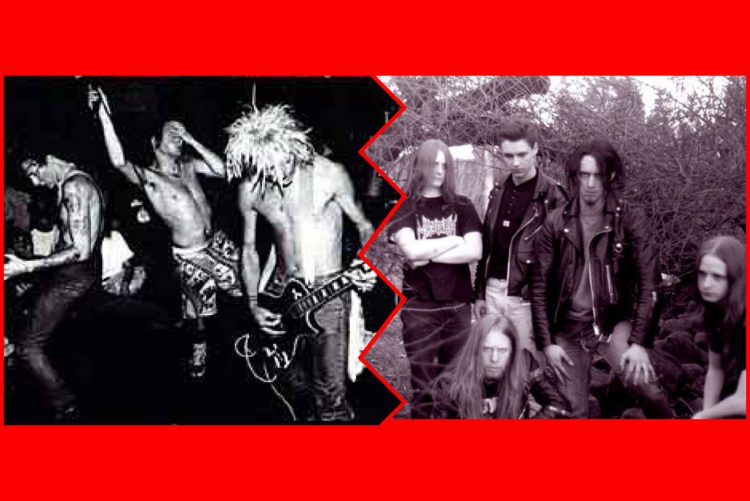 The Roots Metal Creator Series: The Accüsed & At the Gates
Week of November 17, 2018
Sat 11/17, 6PM ET
Sun 11/18, 1PM ET
Mon 11/19, 9AM ET
Tues 11/20, 4PM ET
Thurs 11/22, 9PM ET
Your weekly metal history lesson launches its new ongoing Metal Creator series today, with a look at two crucial groundbreaking metal acts. First, mid-1980s Pacific Northwest splatter punks The Accüsed go under the scalpel, with ripping early intense hardcore thrash by the band and covers by Cannibal Corpse and Lamb of God. Next we travel to Gothenburg, Sweden, in the early 1990s, and follow the evolution of At the Gates from Satanic atmospheric acolytes into tightly-wound melodic death metal masters. Know your metal creators—know your Roots!
Read a lot more about Grotesque, Liers in Wait, and At the Gates in SWEDISH DEATH METAL. The book is always better than the movie.
PLAYLIST:
THE ACCUSED – "Martha Splatterhead" from THE RETURN OF MARTHA SPLATTERHEAD
THE ACCUSED – "Mechanized Death" from MORE FUN THAN AN OPEN CASKET FUNERAL
TEN MINUTE WARNING – "Buried Alive" from BURIED ALIVE
THE ACCUSED – "Autopsy" from THE RETURN OF MARTHA SPLATTERHEAD
BURN THE PRIEST – "Inherit the Earth" from INHERIT THE EARTH EP
CANNIBAL CORPSE – "Bethany Home" from RED BEFORE BLACK
TOE TAG – "Morgan" from WORLD OF LIES SPLIT
THE ACCUSED – "Fast Zombies Rule" from OH MARTHA!
AT THE GATES – "The Red in the Sky is Ours" from THE RED IN THE SKY IS OURS
GROTESQUE – "Blood Runs From the Altar" from IN THE EMBRACE OF EVIL
LIERS IN WAIT – "Overlord" from SPIRITUALLY UNCONTROLLED ART EP
AT THE GATES – "Terminal Spirit Disease" from TERMINAL SPIRIT DISEASE
AT THE GATES – "Cold" from SLAUGHTER OF THE SOUL
AT THE GATES – "At War With Reality" from AT WAR WITH REALITY
Roots is Sound of the Beast author and Bazillion Points publisher Ian Christe's heavy metal history show on Sirius XM Liquid Metal channel 40. Launched in June 2004, each weekly show has examined another subgenre, band, movement, country, or theme in metal, punk, and heavy rock. Past episodes are available on-demand online from SiriusXM.com.