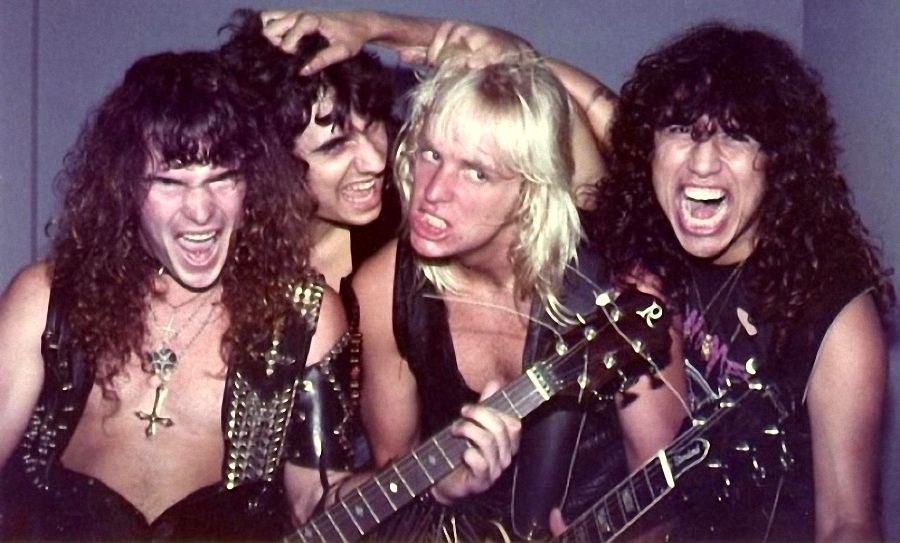 Roots Farewell to Slayer, Part I: The Early Years on SiriusXM
Sat 11/24, 6PM ET
Sun 11/25, 1PM ET
Mon 11/26, 9AM ET
Tues 11/27, 4PM ET
Thurs 11/29, 9PM ET
We begin to wrap up 2018's metal milestones with a farewell to the almighty Slayer through a series of episodes examining each phase of the band's 35-year reign. Part I covers the Show No Mercy, Haunting the Chapel, and Hell Awaits releases on Metal Blade Records, including album tracks; Jeff Hanneman's hardcore side project; influential songs by Venom, Exodus, Megadeth, and D.R.I.; and covers of early Slayer by Hypocrisy and At the Gates. Join us—and know your Roots!
Bask in the glories of early Slayer, Megadeth, Exodus, and Metallica with over 400 original early 1980s photos in MURDER IN THE FRONT: Shots From the Bay Area Thrash Metal Epicenter.
PLAYLIST:
SLAYER – "Die By The Sword" from SHOW NO MERCY
VENOM – "Witching Hour" from WELCOME TO HELL
HYPOCRISY – "Black Magic" from INFERIOR DEVOTIES
D.R.I. – "Evil Minds" from DEALING WITH IT
JEFF HANNEMAN PROJECT – "LIVING JUST TO DIE" from PAP SMEAR DEMO
SLAYER – "Chemical Warfare" from HAUNTING THE CHAPEL
EXODUS – "And Then There Were None" from BONDED BY BLOOD
MEGADETH – "Skull Beneath the Skin" from KILLING IS MY BUSINESS
SLAYER – "Kill Again" from HELL AWAITS
KREATOR – "Riot Of Violence" from PLEASURE TO KILL
AT THE GATES – "Captor Of Sin" from SLAUGHTER OF THE SOUL
SLAYER – "Crypts Of Eternity" from HELL AWAITS
Roots is Sound of the Beast author and Bazillion Points publisher Ian Christe's heavy metal history show on Sirius XM Liquid Metal channel 40. Launched in June 2004, each weekly show has examined another subgenre, band, movement, country, or theme in metal, punk, and heavy rock. Past episodes are available on-demand online from SiriusXM.com.