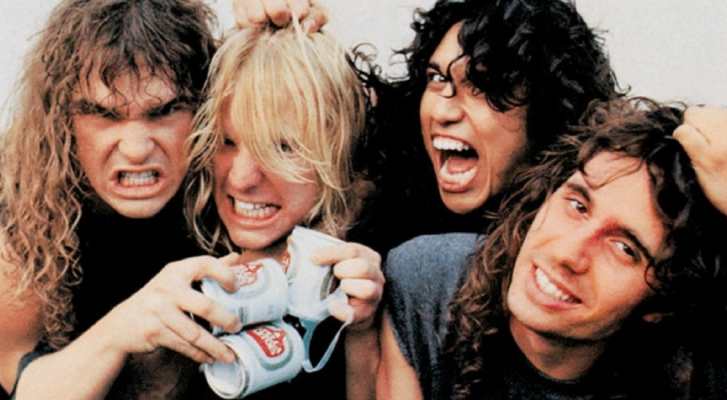 ROOTS FAREWELL TO SLAYER, PART II: THE KILLING YEARS 1986-1991
Week of Dec. 1, 2018
Sat 12/1, 6PM ET
Sun 12/2, 1PM ET
Mon 12/3, 9AM ET
Tues 12/4, 4PM ET
Thurs 12/6, 9PM ET
Our farewell to Slayer series continues, leaving the early Metal Blade years behind for a look at the Def Jam era and three classic albums Reign in Blood, South of Heaven, and Seasons in the Abyss. Timeless Slayer tracks, live versions, covers, and Slayer samples illustrate the rise and reign of Slayer's evil dominion over the mainstream in the late 1980s. Know your Roots!
Catch up on the early years of Slayer with MURDER IN THE FRONT ROW: Shots From the Bay Area Thrash Metal Epicenter, by Harald Oimoen and Brian Lew.
PLAYLIST
SLAYER – "Angel of Death" from REIGN IN BLOOD
MALEVOLENT CREATION – "Piece by Piece" from AT DEATH'S DOOR II
THE KILL – "Necrophobic" from MAKE 'EM SUFFER
PUBLIC ENEMY – "She Watch Channel Zero" from IT TAKES A NATION OF MILLIONS
JUDAS PRIEST – "Dissident Aggressor" from SIN AFTER SIN
SLAYER – "South Of Heaven" from SOUTH OF HEAVEN
VADER – "Silent Scream" from FUTURE OF THE PAST
DECAPITATED – "Mandatory Suicide" from WINDS OF CREATION
DEW-SCENTED – "War Ensemble" from INCINERATE
SLAYER – "Seasons In The Abyss" from DECADE OF AGGRESSION
TORI AMOS – "Raining Blood" from STRANGE LITTLE GIRLS
SLAYER – "Postmortem Raining Blood" from REIGN IN BLOOD
Roots is Sound of the Beast author and Bazillion Points publisher Ian Christe's heavy metal history show on Sirius XM Liquid Metal channel 40. Launched in June 2004, each weekly show has examined another subgenre, band, movement, country, or theme in metal, punk, and heavy rock. Past episodes are available on-demand online from SiriusXM.com.