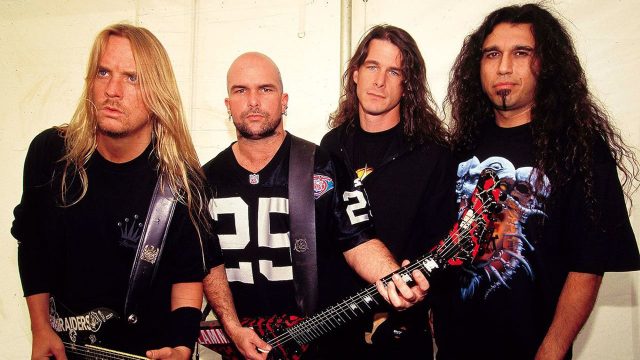 ROOTS FAREWELL TO SLAYER, PART III: REAPING IN THE 1990s
Week of Dec. 8, 2018
Sat 12/8, 6PM ET
Sun 12/9, 1PM ET
Mon 12/10, 9AM ET
Tues 12/11, 4PM ET
Thurs 12/13, 9PM ET
Our farewell to Slayer series continues, entering the gold-album era of the 1990s. From the Ice T collaboration on the Judgment Night soundtrack through the slower and groovier albums Divine Intervention, Diabolus in Musica, and God Hates Us All, Roots presents a decade of successful aggression from the revamped Slayer lineup featuring drummer Paul Bostaph. Know your Roots!
Catch up on the success of Slayer in the 1990s SOUND OF THE BEAST: The Complete Headbanging History of Heavy Metal, by Ian Christe.
PLAYLIST
SLAYER – "Killing Fields" from DIVINE INTERVENTION
SLAYER – "Gemini" from UNDISPUTED ATTITUDE
D.I. – "Richard Hung Himself" from UNDISPUTED ATTITUDE
DR. KNOW – "Mr. Freeze" from PLUG IN JESUS
MINOR THREAT – "Guilty of Being White" from MINOR THREAT
D.R.I. – "Violent Pacification" from VIOLENT PACIFICATION
SLAYER AND ICE T – "Disorder" from JUDGMENT NIGHT SOUNDTRACK
SLAYER – "Stain of Mind" from WAR AT THE WARFIELD
ENFEEBLEMENT – "Bitter Peace" from MASSIVE GENOSIDE DEMO
DISSECTION – "Antichrist" from STORM OF THE LIGHT'S BANE
SLAYER AND ATARI TEENAGE RIOT – "No Remorse (I Wanna Die)" from SPAWN SOUNDTRACK
SLAYER – "Scarstruck" from GOD SEND DEATH
SLAYER – "Bloodline" from GOD HATES US ALL
Roots is Sound of the Beast author and Bazillion Points publisher Ian Christe's heavy metal history show on Sirius XM Liquid Metal channel 40. Launched in June 2004, each weekly show has examined another subgenre, band, movement, country, or theme in metal, punk, and heavy rock. Past episodes are available on-demand online from SiriusXM.com.