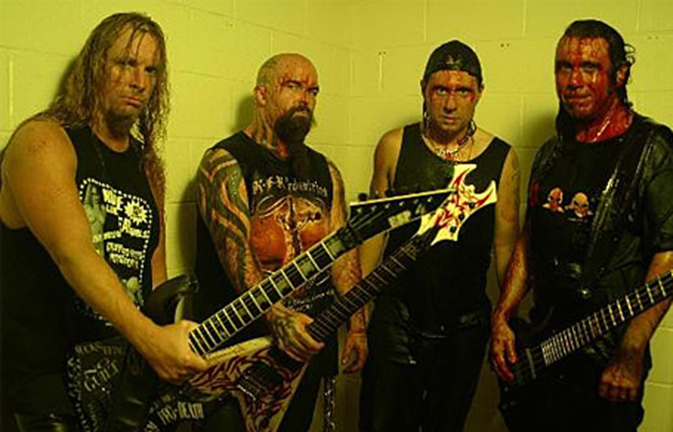 photo: Kevin Estrada
ROOTS FAREWELL TO SLAYER, PART IV: THE FINAL COMMAND
Week of Dec. 15, 2018
Sat 12/15, 6PM ET
Sun 12/16, 1PM ET
Mon 12/17, 9AM ET
Tues 12/18, 4PM ET
Thurs 12/20, 9PM ET
Our extended farewell to Slayer moves into the 2000s, picking up with the return of original drummer Dave Lombardo in 2002 and continuing through the Christ Illusion, World Painted Blood, and Repentless albums. The untimely death of founding guitarist Jeff Hanneman and subsequent departure of Lombardo lead to the January 2018 announcement that Slayer would embark on its final world tour. Rare and live Slayer tracks are joined by guest appearances by members in Witchery and Suicidal Tendencies, plus covers of latter-day Slayer material by London's Counting Days and Indonesia's Angel of Death. Know your Roots!
Catch up on the story of Slayer in SOUND OF THE BEAST: The Complete Headbanging History of Heavy Metal, by Ian Christe.
PLAYLIST:
SLAYER – "Catatonic" from CHRIST ILLUSION
SLAYER – "Beauty Through Order" from WORLD PAINTED BLOOD
COUNTING DAYS – "Disciple" from DECADES OF DESTRUCTION
WITCHERY – "Witchkrieg feat. Kerry King" from WITCHKRIEG
SLAYER – "Atrocity Vendor" from WORLD PAINTED BLOOD 7″
SUICIDAL TENDENCIES w/DAVE LOMBARDO – "Trip At the Brain" from COLORADO 2016
PHILM – "Held in Light" from HARMONIC
ROB CAVALLO – "War Ensemble (Arranged for Orchestra)" from ROB CAVALLO MUSIC
ANGEL OF DEATH – "Repentless" from TRIBUTE TO BIG FOUR
SLAYER – "Raining Blood" from STILL REIGNING
NASENBLUTEN
VS. BONG-RA "Raining Blood" from TRIEBWERK 2005
Roots is Sound of the Beast author and Bazillion Points publisher Ian Christe's heavy metal history show on Sirius XM Liquid Metal channel 40. Launched in June 2004, each weekly show has examined another subgenre, band, movement, country, or theme in metal, punk, and heavy rock. Past episodes are available on-demand online from SiriusXM.com.