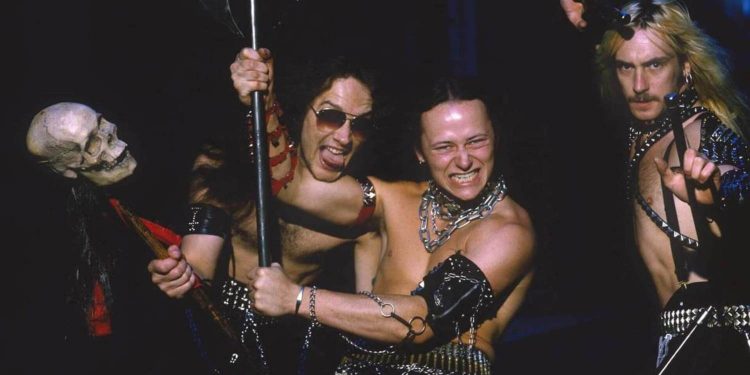 ROOTS OF BLACK METAL ROCK 'N' ROLL
Week of January 26, 2019
Sat 1/26, 6PM ET
Sun 1/27, 1PM ET
Mon 1/28, 9AM ET
Tues 1/29, 4PM ET
Thurs 1/31, 9PM ET
This week's metal history lesson rocks out the black-hearted hatred with "black 'n' roll," the fluid, feral variety of black metal that begins with early records by Venom and Bathory and courses through the years in the veins of Midnight, Nattefrost, Satyricon, Aura Noir, Kvelertak, Darkthrone, and many others. Hail, hail, black and roll —know your Roots!
For a complete mastery of black metal history and evolution, pick up the 744-page behemoth METALION: The Slayer Mag Diaries, by Jon "Metalion" Kristiansen
PLAYLIST:
SATYRICON – "Fuel For Hatred" from VOLCANO
VENOM – "Black Metal" from BLACK METAL
BATHORY – "Reaper" from BATHORY
BEWITCHED – "Worship the Fire" from RISE OF THE ANTICHRIST
CRAFT – "Fuck The Universe" from FUCK THE UNIVERSE
MIDNIGHT – "Black Rock'n'Roll" from FAREWELL TO HELL
AURA NOIR – "Unleash the Demon" from HADES RISE
TAAKE – "Umenneske" from TAAKE
NATTEFROST – "Nekronaut" from TERRORIST
KHOLD – "Hundre ar Gammal" from HUNDRE AR GAMMAL
KVELERTAK – "Blodtorst" from KVELERTAK
DARKTHRONE – "Det Svartner Na" from HATE THEM
I – "The Storm I Ride" from BETWEEN TWO WORLDS
Roots is Sound of the Beast author and Bazillion Points publisher Ian Christe's heavy metal history show on Sirius XM Liquid Metal channel 40. Launched in June 2004, each weekly show has examined another subgenre, band, movement, country, or theme in metal, punk, and heavy rock. Past episodes are available on-demand online from SiriusXM.com.