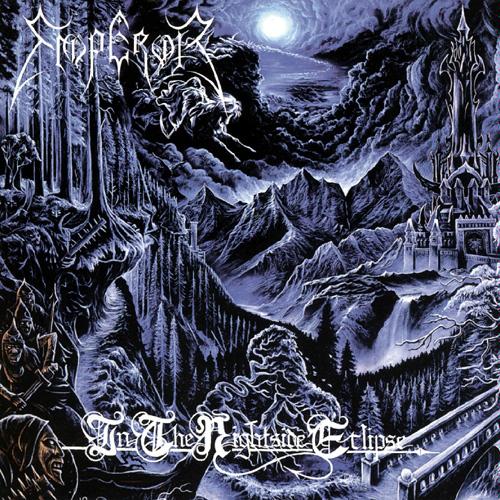 ROOTS HONORS 25 YEARS OF EMPEROR'S IN THE NIGHTSIDE ECLIPSE | on SiriusXM
Week of February 23, 2019
Sat 2/23, 6PM ET
Sun 2/24, 1PM ET
Mon 2/25, 9AM ET
Tues 2/26, 4PM ET
Thurs 2/28, 9PM ET
Twenty-five years ago this week, a group of Norwegian teenagers called Emperor released their triumphant In the Nightside Eclipse album. Engulfed in swirling confusion and controversy over a series of violent crimes happening around them, Emperor's majestic vision of massively vicious and almost orchestral black metal swept the world's imagination. Twenty-five years later, the music has endured, and this week Roots revisits In the Nightside Eclipse, track by track, including alternative versions, live recordings, and covers by the next generation of bands Emperor has inspired. Join us —and know your Roots!
Learn the secrets of Norwegian black metal from the source that started it all: METALION: The Slayer Mag Diaries, by Jon "Metalion" Kristiansen.
PLAYLIST
EMPEROR – "Into the Infinity of Thoughts" from IN THE NIGHTSIDE ECLIPSE
EMPEROR – "The Burning Shadows of Silence" from IN THE NIGHTSIDE ECLIPSE
MIDNIGHT ODYSSEY – "Cosmic Keys to My Creations & Times" from IN HONOR OF ICON E
EMPEROR – "Beyond the Great Vast Forest" from IN THE NIGHTSIDE ECLIPSE
TROLL – "Towards the Pantheon" from IN HONOR OF ICON E
SIRIUS – "The Majesty of the Nightsky" from SPECTRAL TRANSITION – DIMENSION SIRIUS
THORNS VS. EMPEROR – "I Am" from THORNS VS. EMPEROR
TAAKE w/ATTILA CSIHAR – "I Am the Black Wizards" from NOREGS VAAPEN
EMPEROR – "Inno a Satana – Opus a Satana" from EMPERIAL LIVE CEREMONY
Roots is Sound of the Beast author and Bazillion Points publisher Ian Christe's heavy metal history show on Sirius XM Liquid Metal channel 40. Launched in June 2004, each weekly show has examined another subgenre, band, movement, country, or theme in metal, punk, and heavy rock. Past episodes are available on-demand online from SiriusXM.com.