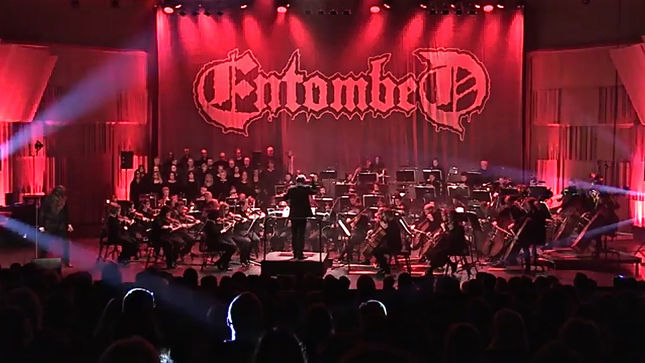 Roots of Metal and Orchestral Collaborations | on SiriusXM
Week of April 13, 2019
Sat 4/13, 6PM ET
Sun 4/14, 1PM ET
Mon 4/15, 9AM ET
Tues 4/16, 4PM ET
Thurs 4/18, 9PM ET
Are orchestral collaborations overindulgent, or the ultimate expression of metal majesty? Join host Ian Christe ("Sound of the Beast"/Bazillion Points) for a refined selection of symphonic collaborations by a range of metal bands including Celtic Frost, Emperor, Satyricon, Yngwie Malmsteen, Entombed, Nightwish, and Metallica. Adjust your tie, straighten your tux, and know your Roots!
From concrete bunkers to concert halls, check out the evolution of metal in the book SOUND OF THE BEAST: The Complete Headbanging History of Heavy Metal.
PLAYLIST:
SATYRICON – "Mother North (Live With Orchestra)" from MY SKIN IS COLD
YNGWIE MALMSTEEN – "Far Beyond the Sun" from LIVE WITH THE JAPANESE PHILHARMONIC ORCHESTRA
EPIC SYMPHONIC ROCK – "Black Sabbath Medley" from OFFICIAL
NIGHTWISH – "Nemo (Orchestral)" from NEMO
CELTIC FROST – "Rex Irae (Requiem)" from INTO THE PANDEMONIUM
ENTOMBED – "Stranger Aeons" from LIVE WITH MALMO SYMPHONIC ORCHESTRA
DIMMU BORGIR – "Progenies of the Great Apocalypse" from LIVE FORCES OF THE NORTHERN NIGHT
EMPEROR – "Opus A Satana" from ANTHEMS TO THE WELKIN AT DUSK
SEPULTURA – "Roots" from LIVE WITH E ORQUESTA EXPERIMENTAL DE REPERTORIO
METALLICA – "The Call of Ktulu" from S&M
Roots is Sound of the Beast author (and Bazillion Points publisher) Ian Christe's heavy metal history show on Sirius XM Liquid Metal channel 40. Since June 2004, each weekly show has examined another subgenre, band, movement, country, or theme in metal, punk, and heavy rock. The show is available on-demand online from SiriusXM.com.